UCI to investigate Vinokourov Liege bribe claims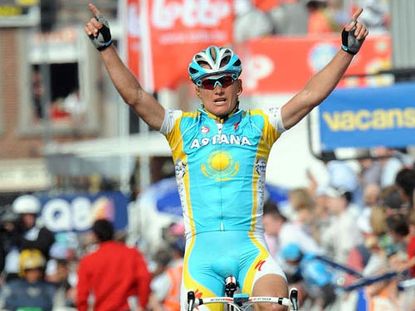 The Union Cycliste Internationale (UCI) is investigating claims Alexandre Vinokourov bought his 2010 Liège-Bastogne-Liège win. The sports governing body announced overnight it is acting on fresh evidence from the Italian Padua investigation, which alleges a £120,000 pay-off.
It said that it will ask to meet with Vinokourov and runner-up Alexandr Kolobnev and that their teams, Astana and Katusha, will have their licences re-evaluated.
"In the light of this additional information gathered as part of the Padua inquiry, the UCI will open an official inquiry into the issue," the UCI said in a press release. "If this inquiry reveals any team involvement, the UCI may also, in accordance with the rules, ask the Licence Commission to re-evaluate the awarding of UCI licences to Team Astana and Team Katusha."
The UCI's licence commission is reviewing applications for 2013 team licences. On October 29, it announced Astana and Katusha were two of the 15 teams to meet the sporting criterion and receive a first division licence. The teams, however, could falter when the commission evaluates the ethical criterion. The commission is set to announce the 18 exclusive licences in early December, also taking into account its financial and administrative criteria.
Vinokourov retired shortly after winning the Olympic road race this summer in London and took over as Astana's general manager. He had already come back from a suspension for doping in the 2007 Tour de France.
Kolobnev was kicked out of last year's Tour for using prohibited diuretic hydrochlorothiazide, but was later cleared. Katusha stands on shaky ground ahead of the licence commission's decision, given Kolobnev's alleged action and Viatcheslav Ekimov's ties to the Lance Armstrong investigation. Newly appointed general manager Ekimov raced with Armstrong for several years. He is allegedly linked to the US Anti-Doping Agency (USADA) investigation as Rider-11.
Vinokourov and Kolobnev rode free in one-day monument, Liège-Bastogne-Liège. After the Roche aux Faucons climb, they would have had around 20 kilometres to work out the alleged deal. With one kilometre to race, on the climb to Ans, Vinokourov rode away. Kolobnev placed second, 1-04 minutes ahead of Philippe Gilbert.
In an article on December 6 titled Le Prix de la Victoire ("The Price of Victory"), Swiss newspaper L'Illustré published e-mails between the two. Kolobnev gave his bank details and Vinokourov agreed to pay. Italian public prosecutor in Padua, Benedetto Roberti added weight to the claims. As part of his investigation into doping doctor Michele Ferrari, he uncovered Vinokourov made two payments to Kolobnev's Swiss account: €100,000 on July 12 and €50,000 on December 28, 2010.
Roberti sent his evidence in last week to the UCI and the public prosecutor in Liège, Belgium, according to Italy's Corriere della Sera newspaper. In a document attached, he wrote, "The office has collected irrefutable evidence. Vinokourov promised and transferred Kolobnev €150,000 to secure the win, enabling a different result than one from proper and fair competition."
The UCI responded to L'Illustré's claims in January by saying it was unable to do anything without evidence. Overnight, it confirmed it received Roberti's evidence. In its press release it added, "The UCI is committed to examining all issues arising from the Padua investigation in a constructive and transparent manner in order to safeguard the integrity of the sport of cycling."
Related links
Fresh evidence of Vinokourov Liege bribe
Thank you for reading 20 articles this month* Join now for unlimited access
Enjoy your first month for just £1 / $1 / €1
*Read 5 free articles per month without a subscription
Join now for unlimited access
Try first month for just £1 / $1 / €1