Velopark decision day looms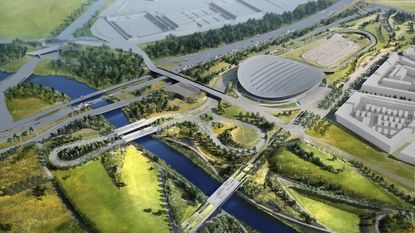 A decision on the future of London's Velopark looks set to be made next week, despite concerns from cyclists that rider safety could be jeoparised.
The plans, submitted by the Olympic Park Legacy Company (OPLC) in conjunction with the ODA (Olympic Delivery Authority) and British Cycling, include a one-mile road racing circuit situated next to the Velodrome, as well as cyclo-cross and mountain bike trails.
It is expected that the proposals for the former Eastway sitewill be approved by the ODA's Planning Decisions Team.
However, although the Eastway Users' Group (EUG) say that the basic elements of the scheme are good, they say a management programme and byelaws are needed to make the Velopark's off-road provision safe and fully functional.
A statement from the EUG reads: "The Planning Committee is recommended to approve the application. The scheme includes the one mile road circuit and the mountain bike trails for racing that are due from earlier planning conditions. However the parklands now serve high-density residential development. This is no return to the secluded nature of Eastway that was 24-hour of highly protected Metropolitan Open Land for cycle sport. Off-road disciplines are at risk.
"As representative body of riders and promoters, Eastway Users' Group has been closely engaged in the development of these latest plans. Speaking at the meeting, the Group is to insist that key conditions and a detailed management plan are needed to protect the amenity from incompatible activities in a public parkland setting.
"The application has set out an indicative mountain bike race loop which is known to have several problem areas where 'interaction' with the public is to be expected. Parts of the loop are public footpath or permissive thoroughfare which any risk-assessment would not normally allow to be included in a race course.
"The public should not stray into a race course when it's being prepared or used. 200+ riders at a Beastway or cyclocross need to know they aren't going to encounter a toddler, dog or football in their way at race speed."
The meeting takes place at Stratford Old Town Hall from 6pm on February 28 (Tuesday). Riders are encouraged to attend.
Related links


Olympic VeloPark future becomes clearer
OPLC's Eastway proposals under fire
VeloPark: Last chance to have your say?
Olympics to disrupt racing at Hog Hill
Thank you for reading 20 articles this month* Join now for unlimited access
Enjoy your first month for just £1 / $1 / €1
*Read 5 free articles per month without a subscription
Join now for unlimited access
Try first month for just £1 / $1 / €1