Wegelius inks one-year deal with United Healthcare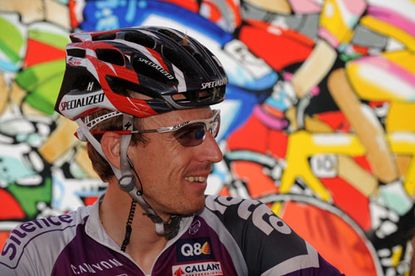 British climbing specialist Charly Wegelius will be racing for American squad United Healthcare in 2011, where he expects to be passing on more than a decade's knowledge of top flight pro racing to the next generation of riders.
"They've got ambitions, but they don't seem to be over-ambitious, they've been very, very professional in the way they've dealt with me so far, and the team wants to grow in a progressive way," Wegelius told Cycling Weekly. "It's all good."
"One of my roles is that I'll be able to help younger riders. I've been bad enough, on occasions, and had enough experience getting my arse kicked in Europe to be able to relate to guys with sore legs in ways natural winners might find difficult to do."
"I know how to struggle in racing, and how to deal with it on a personal level and come through it. That's all going to be experience I look forward to be able to passing on."
There had been speculation that Wegelius would be signing for Team Sky. As an experienced three-week stage racer with more than a dozen Grand Tours in his palmares, as well as being a top climbing domestique, Wegelius would have increased the British team's firepower in major Tours.
But Professional Continental-level United Healthcare are planning to up their European race programme next year, and with that in mind, plus Wegelius interest in taking part in events he hasn't raced before like in the USA, the 32-year-old veteran and one of cycling's newest teams could agree on a deal.
Related links
Charly Wegelius: Rider Profile
Thank you for reading 20 articles this month* Join now for unlimited access
Enjoy your first month for just £1 / $1 / €1
*Read 5 free articles per month without a subscription
Join now for unlimited access
Try first month for just £1 / $1 / €1