Six navigational features on the enhanced Wahoo ELEMNT BOLT for your best summer of cycling
The Wahoo Elemnt Bolt now comes with a colour screen and enhanced navigation; here's how it will help you enjoy your cycling this summer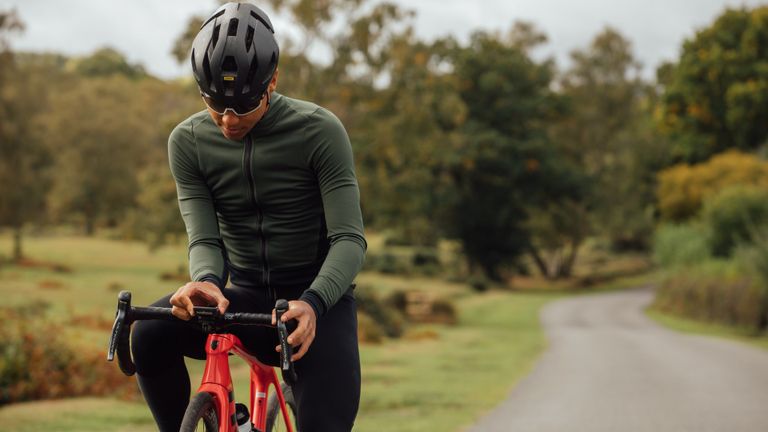 (Image credit: Future)
Promotional feature with Wahoo
Wahoo has made some big updates to its ELEMNT BOLT. It now comes equipped with a 64-colour screen and a faster processor. Coupled with 16GB of memory, that means an enhanced user experience, with new navigation features and improved mapping.
The aero design has always made the ELEMNT BOLT popular with racers looking to shave a few seconds off their personal best. But the enhanced functionality makes it a natural choice for the more casual rider too, who can also enjoy its ease of use and sleek integration with the bike.
Plotting out a route, finding destinations and making up an interesting journey to get there and back - with a great coffee stop on the way - is at the heart of the summer cycling experience. Here's how the updated ELEMNT BOLT will help you to have your best ever summer of riding.
Navigate to start: don't get lost meeting your friends
If you're riding in unfamiliar territory, finding your way to a planned meeting point can be surprisingly difficult, particularly if you're coming from public transport or have had to park a way away from the venue.
The ELEMNT BOLT helps you even before you've started your ride, by giving you turn-by-turn instructions to find the start of your chosen route. So there's no excuse for being late.
Navigate to favourited places: exciting days out visiting new locations
Locate a destination that you want to ride to and the Wahoo ELEMNT BOLT will automatically calculate your best route to get there, optimised for cycling. Then it's just a matter of following the route turn by turn, with the ELEMNT BOLT's programmable LED indicators that sit above the screen - a feature unique to Wahoo Elemnt computers - lighting up to let you know which way to go when you reach a junction.
Eight tips for long rides
1) Keeping fed and hydrated is key, keep eating little and often to keep your energy levels up so you don't end up getting the bonk
2) It's a good idea to take two bottles, one with energy drink, the other with water, so you can vary your intake - or pour the water over your head
3) Plan in some cafe stops where you can refill your bottles or buy extra food
4) Slap sunscreen on your exposed parts before you set off. Take a small tube with you so you can reapply it during your ride, as sweat can easily wash it off!
5) Be prepared for mechanicals. If you have the right tools with you, sorting a problem will be a lot less stressful
6) If you're not sure if your rear end can stand the ride, applying chamois cream before you set out can make all the difference
7) It's a good idea to keep an eye on the forecast and look out for any clouds appearing that might result in a dousing later in the day.
8) If you're not expecting to be back from your ride until the evening, it's a good insurance policy to take lights with you.
Get back on track if you miss a turn
As you ride it's pretty easy to miss a turn if you're not paying attention to your computer, or maybe there's a fast downhill or you're having to negotiate around other traffic. The ELEMNT BOLT's LED indicators make this less likely, but nevertheless it happens.
If you do miss your turn, the Wahoo ELEMNT BOLT will notify you that you're off your course and route you back onto it. It's a useful feature too if you decide to make an on-spec detour, perhaps to a viewpoint or other feature you missed when planning your ride.
'Back to start': get out of jail free card if you get lost
If you really get off course, change your plans or just get plain lost, the ELEMNT BOLT will help you with that too. Select Back To Start and it will plot out a route and guide you turn-by-turn back to your starting point.
It's a helpful feature if you shorten or lengthen your ride as well - or just decide that a ride in a different direction is going to be more fun.
Link to Komoot, Ride With GPS and Strava: download a route directly with ease
The Wahoo ELEMNT BOLT links up seamlessly with Komoot and Strava to let you download routes planned in those apps. They're both very popular for mapping out cycle routes.
Komoot gives you collections of routes near where you plan to ride. Often they're really nicely documented with commentary, photos and video, so you can get a real idea of the experience. There's also the option to plot your own route on Komoot's maps, which are annotated by other riders with points of interest, tricky surfaces and other features.
Meanwhile Strava's route planning app, available to its Premium subscribers, has heatmaps for the roads most ridden by cyclists.
Accurate data: know how far you went, how high you climbed - and how fast!
With its high sensitivity GPS chip, the ELEMNT BOLT will measure precisely where you've ridden and keep track of your instantaneous and average speed. You can track how far you've climbed and how fast too, and you can review your data in the ELEMNT Companion app once you finish, or upload it seamlessly to Strava or other ride and fitness tracking apps.
Your best ride buddy
With Wahoo's innovative set-up dialogue, which uses your smartphone to enter your key parameters, it's really quick to set up the ELEMNT BOLT, so you can get out and ride quickly and easily.
The updated Wahoo ELEMNT BOLT is a computer so good you just forget all about it - it's easy to use and quick to attach (so quick it's even got an aero mount). Set it up via your phone and away you go!
Visit wahoofitness.com today to learn more
Paul started writing for Cycling Weekly in 2015, covering cycling tech, new bikes and product testing. Since then, he's reviewed hundreds of bikes and thousands of other pieces of cycling equipment for the magazine and the Cycling Weekly website.
He's been cycling for a lot longer than that though and his travels by bike have taken him all around Europe and to California. He's been riding gravel since before gravel bikes existed too, riding a cyclocross bike through the Chilterns and along the South Downs.