How quickly do you recover when you taper for a race?
Time to push or take a day off—here's how the data can help you perform on the big day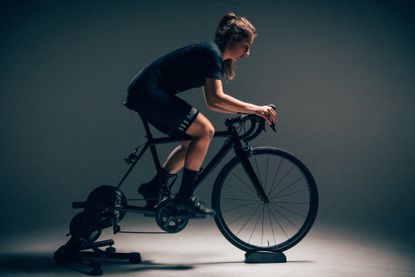 (Image credit: Daniel Gould)
Promotional feature with WHOOP
The science of tapering can be a minefield, even for the most experienced cyclist.
You've spent months training to get in prime shape for your big event, but now you need to ease off the gas and make sure you're recovered just the right amount to perform your best on the day, without wasting your hard earned gains. WHOOP can help you turn up on race day with confidence that you're primed and ready to perform.
While the importance of a perfect taper has long been endorsed by coaches and riders, how do you nail your pre-event recovery? We take a look at how to taper the right way, and how WHOOP data can help you make the most of race week recovery.
What is tapering?
The importance of training for an event is knowing when to stop, but what is tapering? Tapering is basically easing off your training as your race day approaches in order to perfectly balance both fitness and freshness just in time to get the most out of your legs when it comes time to race.
Normally, a taper period lasts from seven to 10 days before an event, where the rider reduces the intensity and length of their training rides in order to let the body recover while also maintaining fitness level.
Training is a stress on the body, resulting in a buildup of fatigue, and a taper period is designed to let you recover just enough so the body doesn't enter race day tired.
The length and type of taper you do will depend on the event you're racing. For longer events you will need to ease off the long distance rides, but make sure you keep the legs turning so event day isn't a huge shock to the body.
Riders partaking in short events like a time trial or criterium need to balance their rest with short, intense workouts to keep the legs primed and ready to perform at full gas without increasing the level of fatigue.
For example, a typical taper week might consist of two rest days, two moderate workouts, and then a 'primer' workout the day before the event to prep the legs and lungs for the race.
While the perfect taper will look very different from event to event, and even rider to rider, there are ways WHOOP can help improve your rest and recovery before the start.
How can WHOOP help improve your taper?
With its 24/7 heart-rate monitoring, the WHOOP Strap 3.0 is an invaluable tool for tracking your recovery and making sure your taper is working.
WHOOP captures five key metrics at high frequency to offer you the best insight into your body, by tracking fitness, recovery, sleep and performance.
The most important aspect of any recovery is sleep, but this becomes even more essential during your taper week. Fitness gains are made when you recover and so getting enough sleep is the best way to ensure your body is primed and ready to perform.
WHOOP helps improve the consistency and quality of your sleep so you can have your best possible performance on race day by tracking your habits and making recommendations.
With recovery tracking, WHOOP gives you a percentage score to show you exactly how well you've recovered and riders can use this to schedule their taper week workouts.
Days when your recovery percentage is higher means your body is better prepared for a harder workout—hence, carrying out your taper workouts when you're better recovered will have huge benefits when it matters most during your event.
Heart-rate variability (HRV) is another proven method for tracking your fitness and recovery by measuring the variation in time between each heartbeat. The greater the variation between heartbeats, the more primed and ready your body is to perform. By measuring the time gaps between each heartbeat, WHOOP's real-time HRV data provides a valuable insight into your recovery and stress, which can help you make better informed decisions when it comes to your training during your taper week.
HRV can indicate an early warning sign of fatigue to help prevent you from digging too deep—unlike a set training plan.
The WHOOP Journal can also play a huge part in your taper week, as the feature lets you log behaviours that may impact your performance each day.
Available for iOS and Android, the Journal gives you a choice of 40+ behaviours that you can track, from nutrition, lifestyle, bedtime routes, and mood, which you can track over time to see how they impact your recovery.
When you track your variables like wearing an eye mask or ear plugs in bed, down to alcohol intake and parenting, WHOOP helps you learn what works best so you can have a better, more restful taper.
WHOOP can also help you deliver with its Strain Coach, a feature that gives you a number that WHOOP applies to each workout you do so you know exactly how intense an activity was.
By offering strain scores for each individual workout and each day, you can use strain to make sure you don't push too hard during a rest week, while also ensuring your workouts provide enough stimulus to maintain your hard-earned fitness level.
Nailing your taper is a constant learning process, but with WHOOP you can recover the right way and guarantee you're ready to perform when it matters the most.
Membership Options
Join WHOOP now and get the new WHOOP Strap 3.0 for free with your membership. Click the link below to get your first month free on Cycling Weekly: join.whoop.com/cyclingweekly.
To learn more about WHOOP, head over to the website and if you do want to sign up you can get a month's free membership by using the link above.
If you would like to find out more about the eRacing software featured in the video, head over to Zwift today.
Thank you for reading 20 articles this month* Join now for unlimited access
Enjoy your first month for just £1 / $1 / €1
*Read 5 free articles per month without a subscription
Join now for unlimited access
Try first month for just £1 / $1 / €1