Winter turbo training tips: maintain form through the winter
VO2 max sessions will ensure you're both fresh and fit for spring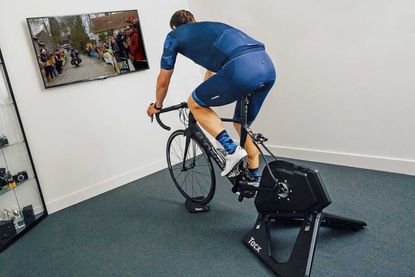 Get The Leadout Newsletter
The latest race content, interviews, features, reviews and expert buying guides, direct to your inbox!
Thank you for signing up to The Pick. You will receive a verification email shortly.
There was a problem. Please refresh the page and try again.
Promotional feature with Tacx
It's easy to lose form over the winter but sometimes there is good reason for it. It's often said that you have to go slower in order to get faster. For the rider who prioritises summer race performances above all else, a long winter programme can reap big rewards.
>>> How to do a fat burning HIIT session (video)
However, if the thought of saying goodbye to your friends when riding uphill or not being able to compete in your local cyclocross race as you're in a 'base phase' is too much to handle, then you may want to maintain some good form over the winter.
Focusing your training around power and duration rather than speed and distance is a far smarter way to track your progress. An accurate and reliable power meter is a must for this style of training. This is why the new wave of direct-drive smart trainers such as the Tacx Neo and Tacx Flux are helping people all over the world to train smarter.
Improving your aerobic endurance should never be neglected regardless of the time of year so this session is designed to improve it while spending short amounts of time working at your V02 max. It should help you to maintain the ability to work at your full capacity so that those spring rides don't feel like a shock to the system.
What it's for
- Maintaining a good level of fitness over the winter months.
- Getting you to the start of spring with a solid level of fitness.
- Taking time to improve your aerobic endurance correctly rather than race yourself fit when it's too late.
How to do it
Use a smart trainer and software which controls the resistance for you. Pre-program your workout so that you can concentrate solely on the effort at hand and not be tempted to take cheeky rest periods.
Don't take any rest after the 30-second V02 max efforts; get straight back on to your target power.
A trainer such as the Tacx Flux with high inertia and a heavy flywheel will give a more realistic road feel for this session, making it much more enjoyable.
Having a trainer which offers accurate power readings will help you track improvements in your fitness over time.
If you have a stable turbo-trainer which allows for out-of-the-saddle riding then try this for your 30-second bursts so that you can incorporate more muscle groups and produce higher power outputs.
Try a VO2 max session for yourself
1 After a 20-minute gradual and progressive warm-up complete 2 x 20 minute intervals at 85% of your FTP with a 30-second V02 max burst at the start of every five minutes.
2 Ensure there is no rest after each V02 max burst and you get straight back on to 85% of your FTP.
3 Take a long eight-minute recovery in between the two intervals and gently spin the legs out.
4 Cool down at 70% of your FTP in order to keep your heart rate elevated right through to the finish.
Thank you for reading 20 articles this month* Join now for unlimited access
Enjoy your first month for just £1 / $1 / €1
*Read 5 free articles per month without a subscription
Join now for unlimited access
Try first month for just £1 / $1 / €1
Get The Leadout Newsletter
The latest race content, interviews, features, reviews and expert buying guides, direct to your inbox!