Women's cycling on Zwift: week of activity celebrates International Women's Day
Zwift Women's Week will take place between March 8 and March 15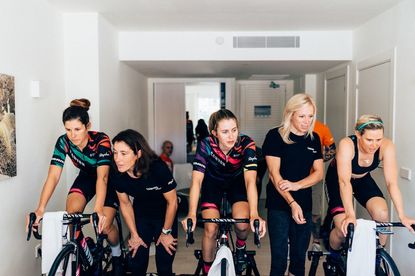 (Image credit: Russ Ellis)
Promotional feature with Zwift
Indoor cycling app Zwift has unveiled a week of women's rides, training sessions and races to celebrate International Women's Day.
The platform is hosting its second 'Zwift Women's Week', taking place between Thursday March 8 and March 15, though it's keen to emphasis its ongoing support.
>>> Check out the Zwift Women's Week events and rides on offer here
"We're trying to make the Zwift women's experience the best it can be; it's not about cramming as many women's events in to one week as possible - it's a peek at what's to come, introducing new personalities, new features, new events, that are going to make the Zwift women's experience even better," explained Women's Strategy Lead at Zwift, Kate Veronneau.
During the week, riders will be able to complete training sessions led by notable female athletes such as Dani Rowe, Kristen Armstrong and Zwift Academy riders Leah Thorvilson and Tanja Erath. There will also be group rides hosted by women at Zwift HQ, as well as 'Fearless Racing' competitive events.
Veronneau says the 2016 Zwift Academy - from which Thorvilson graduated - was instrumental in creating a strong women's community on the platform. It became even more popular in 2017 with five times as many academy graduates.
"What started as a talent identification competition, actually turned into this incredibly encouraging, supportive international community of women cyclists. We recognised that this community had slightly different needs and wants sometimes than the men's community - and we wanted to make sure we were always considering that when we create events and opportunities."
Explaining how the women's community is different, Veronneau says the riders "encourage each other, in a way that is a little different to the men's community sometimes," adding that Zwift will be offering more spin inspired sessions "for women that are really busy with careers and children and everything - that might typically go to the gym and knock out a quick spin."
"Cycling in general is very slanted gender wise, and we recognise that we have to be very proactive in making sure there's a lot of different types of rides for women, and we're bringing in coaches and riders for the women's community to be inspired by."
Riders taking part in the week will have the opportunity to unlock new items: the Liv Langma Advanced SL road bike, kit by 'Bad Ass is Beautiful' brand Betty Designs and Zwift's own Women's Week kit, which uses bold colours, and isn't afraid to stand out.
"The motto behind Zwift Women's Week is Fun, Fearless and Fit. [When we designed the kit] we didn't want something overly girly, to placate the community at all - we wanted something that was very strong and stylish."
The rides on offer during the week, and partnerships being made with brands like Liv and Betty Designs, should work both ways.
"Riders will be able to cycle with big names in women's cycling - and that exposure can make people pay attention to the women's pro scene as well, and be a little more invested in that which is what the pro scene needs too - the exposure, people knowing these names and wanting to watch racing."
"Our partners - Rapha, Liv, Specialized, SRAM, Betty Designs - are all companies that lead the industry in providing awesome opportunities for women - designing for women, engineering for women, not just slapping pink on something, really considering the different needs, biology and mechanics of women when making kit - these are the companies we really want to promote.
"They're all about getting more women on bikes - and that's what we're all interested in - getting more women riding bikes more often."
Thank you for reading 20 articles this month* Join now for unlimited access
Enjoy your first month for just £1 / $1 / €1
*Read 5 free articles per month without a subscription
Join now for unlimited access
Try first month for just £1 / $1 / €1