Brands, organisations and teams gear up to celebrate International Women's Day
Several brands have expanded celebrations to create 'women's week' with male and female teams sporting emblems of support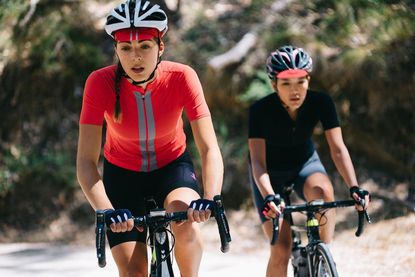 Brands, teams and organisations across cycling are celebrating International Women's Day - the 1909 founded tradition which commemorates women's rights movements across the globe and takes place on Thursday March 8.
Women's cycling is still far from equal to men's - half of the UCI women's peloton races for less than 5,000 euros a year and 17.5 per cent is still unpaid.
On a domestic level, stats show that in the UK and USA men make between 72 and 76 per cent of all bike trips. However, the wheels of change are moving; greater inclusivity, more provision for female riders and snowballing participation mean that since 2013 there's been a 72 per cent increase in female race licence holders, with 723,000 more women influenced to cycle in the UK.
Whilst the naysayers will no doubt argue that there's little need for an International Women's Day, the stats clearly show that initiatives and incentives designed to increase female participation are not only needed, but they're working. And there's plenty of them happening this week and next.
Rapha Women's Week talks and rides
Rapha - the brand behind the annual Rapha Women's 100, which typically takes place in September - will be dedicating the entire top floor at its Spitalfields branch to its women's collection, with a host of talks and rides taking place through the week.
On Thursday March 8, between 8 and 9am, the store will host in informal coffee morning during which Rapha designer Maria Olsson will talk through the brand's design process, answering questions around the range.
That evening, from 6.30pm, a panel of experts will discuss a selection of issues, ranging from women's professional cycling to getting more women on bikes at a grassroots level. The panel will include UCI Women's Committee member, Sarah Clark, LCC campaigns co-ordinator Fran Graham and Head of Women's at Rapha, Alicia Bamford.
Come the weekend, on Saturday March 10, the store will host an International Women's Day ride. This no-drop trip, split into groups based on speed, will travel into Essex after meeting at Rapha Spitalfields at 8am, rolling out at 8.30am. Rides will return for coffee and cake after the ride.
Zwift's Women's Week rides
Indoor cycling app, Zwift, is also celebrating International Women's Day with a full week of activity. There will be women's workouts and races on the platform as well as celebratory Women's Week kit to be unlocked.
On Thursday March 8, at 8am, there will be a ride led by women at the company's London HQ. Taking part will unlock the dedicated Zwift Women's Week jersey.
On Sunday March 11, Zwift academy winner Leah Thorvilson will host an 'Anaerobic Capacity Workout' and on Tuesday March 13, three time Olympic gold medallist Kristin Armstrong will lead a time trial specific workout.
Cycling UK's search for 100 inspirational women
Cycling UK has announced that it's beginning its search for 100 inspirational women, this year the list is being generated 100 years after women first got the vote.
Julie Rand, Cycling UK's 100 Women in Cycling Coordinator said: "A hundred years ago, some women were first given the right to vote after a long battle by the Suffragettes, many of whom used bicycles as they campaigned around the country. It seems fitting that a century later we're championing women who are doing so many fantastic things around cycling."
"Far fewer women than men cycle regularly in the UK, and yet the physical and mental health benefits of cycling are particularly beneficial for women. By highlighting some of the amazing achievements of these 100 women, we want to inspire other women to build cycling into their everyday lives."
The list - which will be published at the beginning of July, to coincide with the Cycling UK Women's Festival of Cycling - will be made up of prominent women in the industry, as well as those getting involved at a much more grassroots level. You can nominate anyone you feel is deserving here.
Alé's pro teams adopt symbolic glove
Elsewhere in the world of cycling, both of Alé's sponsored teams - women's squad Alé Cipollini and men's team Bardiani-CSF - are wearing a solo single purple glove in support of the international women's day.
The team riders wore the purple gloves at Strade Bianche (Alé Cipollini), Trofeo Oro (won by Alé Cipollini's Marta Bastianelli) and International Rhodes GP (Bardiani-CSF) races, and the brand say the aim is to "bring a message of support for the campaign, hoping to inspire and empower women within the sport."
Alessia Piccolo, CEO of Alé and President of the Alé Cipollini team, said: "We are living in a time of change with the rights of women in every situation being addressed and bravely challenged.
"Our ultra-violet glove is simply a symbol of support for those women and their journey to equality, and we hope it shines a light on the pride and motivation that the cycling community has towards their cause."
The special edition International Women's Day winter and summer gloves will be available to buy on Alé Cycling from Thursday March 8.
Women's focused initiatives across the industry
Bike brand Canyon, which unveiled its new women's specific mountain bike range last week, has populated its direct sales homepage with women's riding images.
British Cycling's Breeze leaders will be holding International Women's Day rides across the country - you can find your nearest ride on the site here.
Elsewhere, Transport for Greater Manchester has joined forces with a number of volunteer groups to organise rides aimed at empowering more women to "saddle up and make more journeys by bike" - with social rides on scenic off-road routes, plus maintenance courses and social events.
Giant's Camden store will hold a talk given by Liv Ambassador Alice Thomas, giving tips for your next cycling adventure.
There are plenty more plans and celebratory events taking place, with still more ready to be announced - and we'll update this page as more plans are unveiled (and embargos lifted).
Thank you for reading 20 articles this month* Join now for unlimited access
Enjoy your first month for just £1 / $1 / €1
*Read 5 free articles per month without a subscription
Join now for unlimited access
Try first month for just £1 / $1 / €1