Canyon/SRAM Zwift Academy rider Leah Thorvilson gears up to ride the Giro Rosa
The successful candidate is preparing for her biggest race ever - as registration opens in the search for the 2017 Zwift Academy rider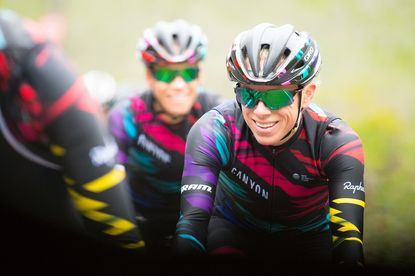 (Image credit: Russ Ellis)
Get The Leadout Newsletter
The latest race content, interviews, features, reviews and expert buying guides, direct to your inbox!
Thank you for signing up to The Pick. You will receive a verification email shortly.
There was a problem. Please refresh the page and try again.
Canyon/SRAM's Zwift academy rider Leah Thorvilson will ride the Giro Rosa next month and still hopes she can prove herself and earn a second year contract.
The former marathon runner was given the golden opportunity to join the team, at the age of 37, having beaten 1,200 women on the virtual training platform Zwift to a place.
Thorvilson was one of three women who made it to the final round of the Zwift Academy, and after joining the team on their training camp in Majorca she came away with a pro contract.
Next on her hit list is the Giro Rosa – a race that beings on June 30 and represents a massive step up for her as her first UCI Women's World Tour event.
She told CW: "On one hand there's the part of me that is a cat 4 cyclist with a dream – it's like I just won the jackpot. The Giro is the women's equivalent to riding the Tour de France. Then there's the reality side of it - which is scary."
The climbing included in the route will suit her natural strengths – but the technical elements are a concern.
"The other races I've done have been the ones that allow the national and the club riders," she said. "I'm not the only one making stupid mistakes. I think potentially I might be the only one at the Giro making stupid mistakes.
"But I can't think about that at all – it won't help. I do want to play a role for my team-mates – but I know it's going to be intense."
She added: "Climbing is my strength so it'll be good to showcase that - but what goes up must come down. I just hope that I'm able to put myself mentally in a place where I can play the game and don't take myself out of it by making stupid mistakes."
Thorvilson's Zwift performance provided her with a one-year contract – but though she remains 'realistic', she's not given up hope of being offered an extension.
"I know right now if you're looking strictly at performance, I get an A+ for effort but I've not really given the team a reason to say 'hey how can we make this work'.
"It would be amazing, and I've not given up on it. If I'm given another opportunity [to have another year] I will do everything I can to make sure it works but I do realise I may be going back to normal life," she said.
And if she does go home at the end of the season – she's got a plan: "I've got one hell of a story – I really think if I can make myself sit down, I should write a book about this year.
"I've got chapters of stories – forgetting my shoes, breaking my bike with my crotch [Thorvilson's most recent crash resulted in a broken top tube and stitches] – I think cat 4 pro could make a really good book."
The battle to prove herself has been one focused just as much on mental training as physical ability.
"I've got strong numbers - but that's not all it's about," she said. "There's things you can only learn from spending hours on the bike."
Thorvilson has suffered three heavy crashes this year – but she's learned a lot from them: "Resetting your brain after it goes wrong is really important - you have to," she said.
"The first time I crashed, we had a race two days later. When I got back in the race, I kept telling myself to move up, but everything inside me was telling me to protect myself."
Her second crash - at La Classique Morbihan – taught her the importance of getting back on straight away.
"I went down, and I was quite close to the front, but I just protected myself to prevent being hit by another cyclist or causing any more wrecks, instead of concentrating on getting back on. That's another thing I'm not experienced at – bouncing back up when you wreck."
Despite the crash, the race was indeed her best yet, particularly in terms of playing a team role. She added: "I felt like I acted as a team-mate instead of somebody just in the kit, riding at the back of the pack - I was able to play a role, even if I didn't have the best result for myself.
"I have team-mates who need me – it's pressure but I think it's good."
Registration is now open for the 2017 Zwift academy at the end of which a new rider will gain a pro contract with Canyon/SRAM for the 2018 season.
This year, the Zwift Academy has partnered with Today's Plan software, to help organize participants training, alongside TrainSharp who have prescribed workouts. The programme will also see the introduction of eRacing in the semi finals.
Eric Min, Zwift co-founder and CEO says: "Introducing a racing component to the Zwift Academy provides the judges with another important evaluation component. Zwift Academy eRacing will be an ideal testing ground for measuring and gauging new talent in an expansive, fair, effective and competitive environment."
Registration is open now and will remain so until September 1.
Qualification rounds taking place from September 1 to October 1, with semi finals in November and the finals in December.
Thank you for reading 20 articles this month* Join now for unlimited access
Enjoy your first month for just £1 / $1 / €1
*Read 5 free articles per month without a subscription
Join now for unlimited access
Try first month for just £1 / $1 / €1