The hidden motor in your head: How mind training can make you ride faster
Whether igniting a burning desire for glory or overcoming a debilitating fear, the mind's 'hidden motor' is a force to be reckoned with — as examples from the pro peloton prove. Words by Martikn Veltkamp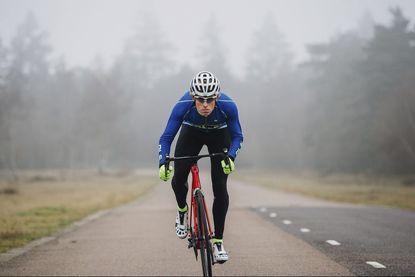 If I said you could improve your cycling performance within 15 minutes, what would you think? I suspect you'd be sceptical, especially if I added that we wouldn't need to alter your physical fitness at all.
But it's true: instant performance breakthroughs can be made by turning a switch in a cyclist's mind.
>>> How to self-test for weaknesses that could affect your cycling
Too often in cycling, coaching focuses solely on optimising training schedules, monitoring physical parameters (heart rate, watts, etc), improving your position, eating properly, and of course buying better tech — in short: body and bike.
Naturally, ensuring these components are as good as they can be is important, but true winners go a step further: they upgrade their brain.
Consider how former time trial world champion Tony Martin reflected on his victory in 2016: "I was strong in the head, I had no pressure. I just had fun on the road."
Similarly, it's no coincidence that both Team Sky and British Cycling riders are supported by renowned psychologists who help them to reach peak performance at the moments when it really matters.
Let's have a closer look at some of the prime examples from pro cycling where mental elements have made a crucial difference.
Beyond limits
In the 2016 Amstel Gold Race, something unexpected happened. Against all odds, Enrico Gasparotto took the victory.
Sure, the Italian had won before, but that was several years back. This time, he was 34-years-old, a great age for whisky but rather old for a pro cyclist.
What's more, Gasparotto was riding for the small-budget Wanty-Groupe Gobert team. What made the difference was that Gasparotto was motivated like no other rider in the competition.
The overjoyed Italian crossed the line pointing at the sky, dedicating the victory to deceased team-mate Antoine Demoitié — the young Belgian rider killed in collision with a motorcycle while competing in Ghent-Wevelgem a few weeks earlier.
Motivation is probably the single most important factor in sport.
It is what drives you to go cycling in the first place, and to keep going in the face of adversity. It not only affects your performance while racing, but also determines the frequency and intensity with which you engage in training, as well as your willingness to adjust your lifestyle. As such, it is the catalyst of your physical condition.
Psychologists typically divide motivation into two classes: intrinsic and extrinsic.
Intrinsic motivation refers to internal reasons for being motivated: riding for the joy of it, or for the enjoyment of clocking a better time over your regular training loop.
Extrinsic motivation, on the other hand, refers to external reasons for cycling: for example, the promise of high prize money or adulation from fans.
An extrinsically motivated cyclist may be riding simply because they happened to discover a knack for it; an inner love for the sport is not guaranteed. But research shows that intrinsically motivated people tend to perform better, especially over the long run and when facing difficulty.
>>> From monster mileage to power meters: how training has changed through the decades
An exceptional class of motivation relates to personally significant events such as a birth or the death of a relative or friend. This is what happened in Gasparatto's case.
The night before the start of the Amstel Gold Race, Demoitié's widow came to the Wanty team's hotel.
"It was hugely emotional, one of the most moving moments of my life," Gasparatto said.
It was this strength of feeling that helped him push through to victory, even though his body told him to stop — he was almost in tears because of the pain in his legs.
In these moments of transcendent motivation, the mind overcomes the body, with results beyond what anyone — including oneself — could have expected.
You might like...
Are bikes with disc brakes faster?

How to ride faster up short, steep hills (video)

The calorie conundrum: Is it what you eat, or how much that helps you lose weight?

11 things you absolutely have to do after cycling

Solo focus
Motivation is crucial in whatever type of training you do, yet it seems especially important when riding alone, such as in an individual time trial.
In terms of the psychology involved, riding alone is considered the hardest mental discipline. The research goes back almost to the invention of the bicycle.
The very first experiment into this topic, by Norman Triplett, was conducted in 1898, and shows that riders perform worse when alone, compared to when riding in a group, even when controlling for outside factors such as slipstream advantage.
The theory is that cycling in groups makes the competitive element more directly visible: you can see how you're doing in comparison to others. If you have good legs, this comparison will boost your confidence, stimulating even better performance.
And if you don't feel so good? You're still helped because you can focus on hanging in there, following the wheel ahead.
If we go one level deeper into this phenomenon, we come to one of the core elements affecting cycling performance. Visible competition with others helps you to focus on the competition or training that you are engaged in. Focus is extremely important.
A couple of years ago, four-time time trial world champion Fabian Cancellara noticed that his time trial performances had diminished because his focus had weakened; he had started regarding time trialling as 'business as usual'.
And with a drop in focus came a drop in performance.
>>> How to cycle faster and increase your average speed
Optimal performance is only possible if you are able to focus fully on the race. The risk, when riding alone, is that you let your thoughts drift, displacing your mental (and consequently physical) energy to other areas.
Even more dysfunctional, but also very common in solo cycling, is to start focusing on your body instead of the race. This internal focus intensifies feelings of physical discomfort, and consequently reduces your ability to withstand the pain.
Whenever you feel yourself becoming distracted and absorbed in internal sensations, it is vital to refocus on the race and the road. Whether it's re-engaging with the conditions or visually focusing on reference points (trees or roadside signs, or whatever), the crucial thing is you will be paying full attention.
Watch: How to become a better climber

http://www.youtube.com/watch?v=KhtGMMRbgY0
Keeping the goal in mind
You may have raised an eyebrow at the previous reference to Cancellara's self-doubt. Didn't the steely Swiss win the Olympic time trial on the roads around Rio de Janeiro? Yes, and nobody came close to his golden ride.
But this brings us to another major psychological aspect of cycling: goals.
When Cancellara struggled to find his all-powerful 100 per cent motivation and focus for time trialling, there was one exception, one more medal he still wanted to add to his collection: Olympic gold. This was his major goal in his last year as a pro.
Setting only a few — five per year, or fewer — specific, attainable yet challenging goals benefits performance significantly.
Such goals act as a point of reference: you know when you should have peak performance and can calculate what you should do to get there. It also provides the comfort that you do not always have to be at your best.
In the research for my book The Hidden Motor, I spoke with another rider who won gold in Rio, road race champion Greg van Avermaet.
"The Flemish Classics [in April] are my big goals," he explained. "You start working towards them in November. Performing well there is constantly in the back of your head. It helps being more relaxed about other preparatory races."
Van Avermaet stressed that, despite setting key goals, retaining some flexibility is essential.
"It's just like making a deadline at work. A fall or illness can slow down your preparation, but you just need to compensate for that with training or extra races. It doesn't change the deadline."
Setting a few clear goals and consistently working towards them has a major psychological benefit, increasing trust in your ability to succeed.
"Trust is very important, [goal-directed preparation] gives you the feeling of having done everything right when you get to the start line," said Van Avermaet.
It was the same for Cancellara: although he seemed quite relaxed at earlier events in 2016, all the while that Olympic time trial was lurking in the back of his mind. Everything was geared towards that single day in Rio.
He even decided to abandon the Tour de France early just to save his powers for the Olympics. Making such choices is necessary to reach optimal performance, and for 'Spartacus' it clearly worked.
Going down that hill
Finding the right motivation and setting the right goals clearly helps you to improve performance. But some mental factors can hinder good results on your bike, or even negate the enjoyment of riding.
One of the most common factors in this category is fear, specifically the fear of descents.
You might assume this is an issue that affects only amateur riders, but that's not the case at all.
>>> How to master descents (video)
In the Giro d'Italia 2013, Bradley Wiggins started out as a main contender, but after a week of racing, he became fear-struck on the slippery and dangerous descent to stage eight's finish line in Pescara.
The Sky captain tensed up and came to a near stop at every turn. It marked the end of his general classification ambitions for the Giro.
Another example: on stage 17 of the 2015 Tour de France, the exact same thing happened to Thibaut Pinot on the risky descent of the Col d'Allos.
Fear is a big inhibitor — and rest assured, if you sometimes feel pangs of anxiety when going downhill, you are in good company.
There are several ways in which psychology can help you to overcome (or at least cope with) that fear.
First, you could engage in exposure. This means you take little steps that are increasingly related to the thing you fear most, for example a dangerous and wet descent.
This is the approach Pinot used: he was supervised by a Le Mans 24-hour racing driver on the Magny-Cours racing track, and raced full speed through the corners in a car.
Only when he got used to that feeling did he start practising on his bike again, and successfully regained control over his fear.
Another way to reduce a fear of descents is through distraction. Distraction is known to reduce the emotional responses of your brain, including fear responses.
>>> Talent or training? How a gifted young rider becomes a champion
One method is to re-direct attention to visual cues or aural distractions such as the wind or the sound of the tyres.
This can help you to become less preoccupied with fear, making you less likely to automatically interpret the situation as frightening.
In the four circumstances described in this feature, we have seen how the mind can act like a hidden motor to improve your cycling performance. It is easier than you might think to put these lessons into practice — just 15 minutes can make quite a real difference.
How to rev up your 'hidden motor' in 15 minutes
1. Ask yourself: why am I cycling? What is it really that you get out of it? What gives you the most pleasure? Take three minutes to do this. You just defined your intrinsic motivation. Keep it in mind. Always.
2. What is the one thing you really want to do on your bike in 2017? Do not set more than three main goals. What are the things you are going to do (and not do) in order to get there? Spend four minutes on this. This is your basic 2017 goal plan — congratulations.
3. Spend eight minutes on this focusing exercise. Sit straight and relax. Now focus on your breathing for the full eight minutes. Pay attention to how your breath moves in and out. Your thoughts may wander; if they do, calmly bring the focus back on to your breathing.
Although originally a mindfulness exercise, this task — when done repeatedly — trains you to sharpen your cycling focus. When you feel your focus drifting while in the saddle, having practised this mindfulness technique, you will be able to shift your thinking back into focus quickly.
Thank you for reading 10 articles this month* Join now for unlimited access
Enjoy your first month for just £1 / $1 / €1
*Read 5 free articles per month without a subscription
Join now for unlimited access
Try first month for just £1 / $1 / €1
Founded in 1891, Cycling Weekly and its team of expert journalists brings cyclists in-depth reviews, extensive coverage of both professional and domestic racing, as well as fitness advice and 'brew a cuppa and put your feet up' features. Cycling Weekly serves its audience across a range of platforms, from good old-fashioned print to online journalism, and video.