Are bikes with disc brakes faster?
Will disc brakes will help you get from A to B quicker than a classic caliper set-up?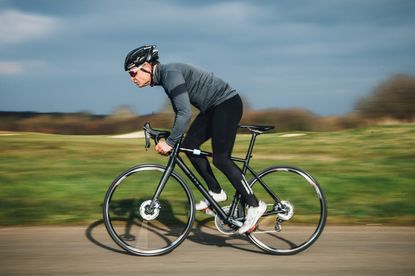 Despite the UCI giving the green light to disc brakes in the peloton, one of the most successful Classics riders of all time, Fabian Cancellara, has decided to stick to caliper brakes for his final pro season. "I don't think they [disc brakes] make me go faster, or slower. It's a technical and personal decision," he said.
Like Cancellara many of the road riding community have been asking 'are disc brakes necessary on a road bike?' Ultimately cyclists will choose what gets them from A to B in the shortest amount of time, so perhaps the question we should be asking is 'will disc brakes make me faster?' For both caliper and disc brake wheels 'faster' means considering the same metrics: aerodynamics, weight and braking.
Aero factor
The focus has shifted evermore towards aerodynamics. It plays an important part in your speed on all but the steepest hills. No one wants to waste watts.
>>> Hydraulic disc brakes are coming to Shimano Tiagra from this summer
Head-on there is a little difference between a caliper and disc brake set-up from an aero perspective. "With a direct head or tailwind (zero degrees yaw) and travelling at 40kph, the difference is about 0.5-1.5 watts, or four seconds over 40km," says Dr Chris Yu, aero and racing R&D lead at Specialized.
However, due to the larger surface area of a disc rotor, in crosswinds they can have a negative effect. "In crosswinds the difference begins to increase and become more noticeable, around two to three watts or 10 to 12 seconds over 40km."
>>> Disc brake version of Specialized S-Works Venge ViAS spotted ahead of Classics
Michael Adomeit, product development engineer at Canyon, compared a standard Canyon Ultimate with caliper brakes to a prototype Ultimate with hydraulic disc brakes and found even greater discrepancies between the set-ups. "On average, a disc brake set-up is three watts slower when travelling at 45kph, but at high yaw angles, which are less likely, the difference is as much as five watts."
Lighter rims
As well as not slicing through the wind as efficiently, disc-equipped bikes are generally around 300g to 400g heavier. However, Chris Boardman, founder of Boardman Bikes, believes the weight penalty is negligible. "As a percentage of the rider/bike package and as a percentage of performance impact, [the additional weight is] way too small to measure," he says. "Also, there could be a small rotational weight saving at the rim."
Jonathan Day, owner and director of Strada Hand Built Wheels, agrees that due to the lack of a rim-braking surface there is the possibility of reducing the rim weight: "Due to no braking/friction surface, the rim can be made lighter by removing some material.
>>> 'Women's cycling is not really ready for disc brakes'
A lighter rim means the rotating mass of the wheel is reduced, allowing it to spin up quicker in acceleration, and will also be noticed when going uphill. Yes, there is a weight gain as a rotor is fitted, but it is at the hub and is centralised so the effect is reduced," he said.
Better braking
The main argument for adopting disc brakes is the purported superior braking power along with the greater feel and modulation. In theory the consistent all-weather braking provided by disc brakes could improve a rider's confidence, resulting in later braking into corners meaning speed can be held for longer. "Disc brakes certainly offer a better braking performance and that will also help save time," said Adomeit.
Are you braking bad?
Our Take
From an overall performance perspective it is very difficult to split disc and caliper brakes. Currently road bikes are using disc brakes modelled almost exclusively on mountain bike set-ups, which comes with aerodynamic and weight penalties. However, the marriage between disc brakes and road bikes is largely in its infancy. As companies invest more time and money in R&D it is inevitable the performance of disc brakes and disc-equipped bikes will improve. Disc-brake bikes are already fast, and are only going to get quicker.
Are disc brake bikes faster?
Yes Chris Boardman, founder of Boardman bikes
In isolation discs are slightly less aero than rim brakes, but in my experience, better, more reliable braking instils confidence, allowing you to brake later and less often. This far offsets any aero small losses. The weight penalty is negligible — you are into the 0.08% range. When you factor in the option for reducing rotational weight (lighter rims) giving better acceleration, I'd say your performance is far more likely to improve.
No, Dr Chris Yu, aero and racing R&D lead at Specialized
Although disc brakes aren't always the slowest option, from a pure speed and aerodynamic perspective caliper brakes are faster. At zero degrees yaw there isn't much difference. However, with disc brakes a large portion of the aero drag comes when the rotor is exposed to crosswinds. On a completely flat time trial, or a race with little extreme braking, disc brakes are currently slower.
Thank you for reading 10 articles this month* Join now for unlimited access
Enjoy your first month for just £1 / $1 / €1
*Read 5 free articles per month without a subscription
Join now for unlimited access
Try first month for just £1 / $1 / €1