Aero bike vs climbing bike: Bauke Mollema tells us which he prefers
Do you chose an aero bike or a climbing bike? Riding for Trek-Segafredo, Dutch rider Bauke Mollema has both the Trek Madone aero bike and Trek Emonda climbing bike at his disposal. Mollema explains which he prefers and when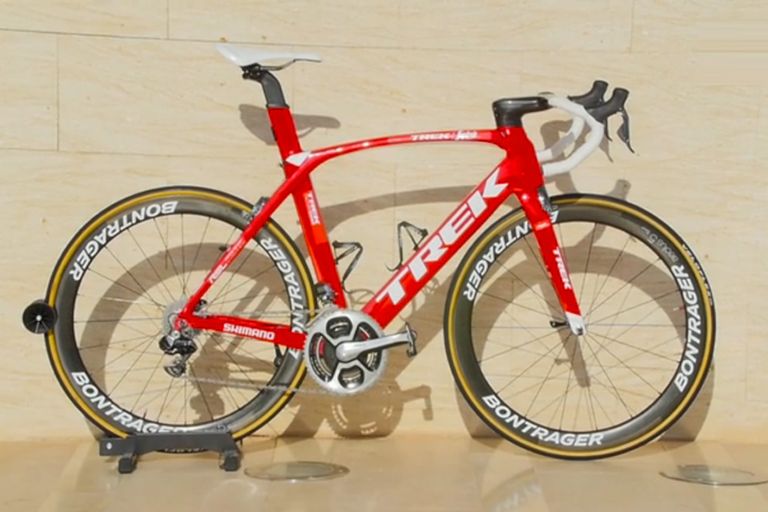 >>> Aero bike vs lightweight bike uphill (video)
Trek-Segafredo use Veloflex tyres this season and Mollema explained that "last year we used 23mm tyres, but this year we are using 25mm which give a bit more grip in the corners on the descents."
The Madone is not just ridden for its aerodynamic prowess – for Strade Bianche type terrain Mollema prefers the compliance of the Madone, with it's Iso Speed Decoupler technology.
Regarding wheel choice, Mollema prefers the 50mm deep Bontrager Aeolus 5, but explained that "the 30mm wheels are used uphill finishes and tough climbing days."
Speaking exclusively to Cycling Weekly, Mollema explained that he has the exact same riding position set up on both frames. "Its easy to switch between bikes because the position is the same."
>>> How much faster is an aero bike? (video)
Many pro cyclists like to ride the same bike in the mountains as they do on flat stages. Examples include Chris Froome on his Pinarello Dogma F8 and Alberto Contador on his Specialized S-Works Tarmac. Bauke Mollema is different in that he regularly switches between Trek's aerodynamic, but slightly heavier Madone and the Wisconsin-based company's featherweight Emonda SLR climbing bike.
Mollema's Trek Madone aero bike in a full race build weighs 7.2kg, while the Emonda is 6.8kg, right on the UCI weight limit. Mollema explained "for the mountains I switch to the Emonda, because on the climbs weight is so important and you feel the bike accelerates really easily uphill."
"The 400g difference between the two bikes is really important to me," Mollema continues. "I'm a climber and when you're on an uphill finish it can make the difference. They are both stiff bikes, but they react differently. When you sprint or accelerate uphill I really like the Emonda."
>>> How much speed can you buy? (video)