Why giving your brain some TLC is good for your health
Alzheimer's Research UK's Think Brain Health campaign aims to help you reduce your risk of dementia, while improving your general wellbeing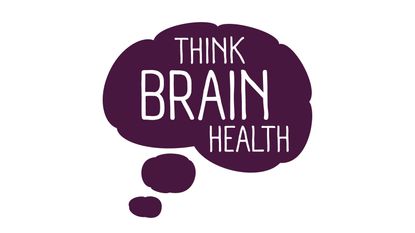 (Image credit: Alzheimer's Research UK)
Brains are incredible. Not only do they control the way we think and move, they're also what make us who we are. While it's widely accepted that physical exercise has numerous benefits for our general wellbeing, it can be easy to forget that our brains deserve some attention, too.
The good news is that giving your grey matter a bit of extra love doesn't require signing up for an arduous, time-consuming routine. Alzheimer's Research UK's Think Brain Health campaign is dedicated to celebrating all the brilliant things brains can do, while sharing steps we can all take to look after that powerful organ in our heads. Looking after your brain health can have important long-term benefits too, because research suggests that up to 40% of dementia cases are linked to factors we can influence. In other words, while around two thirds of people don't realise it, taking steps to protect our brain health in our 30s, 40s and 50s can help lower your chances of developing dementia later on.
And though there's currently no sure-fire way to prevent dementia – age and genetics are also important factors – following these three simple rules can help reduce your risk:
1. Love your heart
It's a simple equation but what's good for your heart is good for your brain. So, by staying active, eating healthily and not smoking, you'll also be protecting your brain and helping reduce your risk of developing dementia later in life.
It's well known that eating a balanced diet rich in fruit, vegetables, wholegrains and healthy proteins helps to prevent heart disease, while also keeping your blood pressure in check. This, in turn, helps to protect the tiny blood vessels carrying oxygen around your brain.
Physical activity, meanwhile, helps our hearts pump vital oxygen and nutrients around our bodies and, crucially, to our brains.
2. Stay sharp
The benefits of jumping on the saddle for a spot of physical exercise are clear, but giving your brain a workout can also reap rewards. While there's no hard evidence pointing to any specific activities being best for your brain just yet, there are a variety of things you can do to get your grey matter in gear. It may be as simple as taking on interesting new tasks at work or, if you like cooking, challenging yourself with a new recipe every weekend. You could also try learning a new language.
Any hours you can devote to your mental wellbeing will be well spent too, whether it's making time for a hobby or something else you enjoy. As will taking steps to get a good night's sleep – after all, getting enough quality sleep is also linked with a reduced risk of dementia.
3. Stay connected
After a few years of lockdowns and working remotely, this probably comes as little surprise, but human connection is also good for your health. Research suggests that social isolation can be another factor linked to an increased risk of dementia, so talking and staying in touch with friends and family can be extremely beneficial. The good news, then, is that making plans to hang out with your mates isn't just fun – it's also good for your brain health.
If you'd like to take steps to protect your brain health, Alzheimer's Research UK's Think Brain Health Check-in can point you in the right direction. While it's not an assessment or a diagnostic test, this quick, easy Check-in asks questions about you and your brain healthy habits, and takes about 10 minutes to complete. It then uses your answers to celebrate what you're doing well already, and identify any areas where you may be able to make improvements. You can then sign up to a five-week series of emails containing blog posts, and advice on forming (and sticking to!) habits that are good for your brain. You'll also receive information on Alzheimer's Research UK events.
You'll soon realise that looking after your brain health doesn't require a massive investment of time or effort – and that it's wonderful for your all-round well-being, as well.
For more information on how you can improve your brain health, visit Think Brain Health.
Thank you for reading 10 articles this month* Join now for unlimited access
Enjoy your first month for just £1 / $1 / €1
*Read 5 free articles per month without a subscription
Join now for unlimited access
Try first month for just £1 / $1 / €1