The Cube Trike Hybrid: it really could replace your car
Innovative new three-wheeled e-cargo bike is all you need for getting from A to B emission-free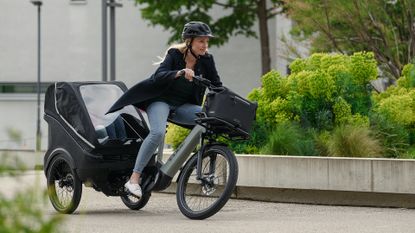 (Image credit: Cube)
Cube's new Trike Hybrid is the most compelling reason so far to ditch the car.
For those who can't quite let go, the unique new e-cargo bike was developed in collaboration with BMW and features so many clever design features and innovative tech that it's hard to know exactly where to begin.
So, let's start from the beginning. What is it exactly? Well, since nothing quite like it has existed up to now, the Cube Trike Hybrid almost escapes categorisation.
It combines the handling of a standard two-wheeled bike, the load-carrying capacity of a longtail cargo bike and the stability of three wheels. It does this thanks to a patented tilting mechanism that decouples the load at the rear from the bike at the front, giving a natural feel to cornering. The rider leans into a corner, as with a standard bike, while at the back the kids stay sitting upright or the load stays horizontal.
The tech is advanced, but here's no need to be an experienced e-cargo bike rider to operate it - the Trike Hybrid is designed so that it can be easily used by almost anyone.
That means anyone of any shape or size, too: Cube uses the same one-size concept found on most of its urban bikes, ensuring the Trike Hybrid is a mode of transport for the whole family that lots of people can use.
There's a telescopic seatpost with a huge range that can be set up from very low to very high (accommodating riders roughly 1m 60cm to 1m 90cm or 5ft 2in to 6ft 2in), and at the front is an angle-adjustable stem.
The cargo box at the rear is lightweight and tough, with a high back and sides to protect the more precious cargo, with removable seats so that you can carry either kids or goods easily, quickly and emission-free across town.
To keep the kids safe and protected, there's a raft of innovative functions.
Cube paid particular attention to the cover, which keeps the wind and rain off the passengers with a polycarbonate windshield at the front. When the cover is opened, an integrated gas strut keeps it open unassisted and allows the children to climb in or out independently.
On the left and right are side panels that can zip on and off; they can also roll up to reveal a mesh section. When it's warm out, the mesh allows fresh air in but stops children from sticking their arms out, keeping their hands away from the spokes.
The seat is made from recycled EPP foam with room for up to two children. It's solid to support the five-point harnesses and topped with infinity foam padding that's soft and comfortable so that they can enjoy the ride.
The harnesses keep children securely in place and use a magnetic closure, making it easy to sit kids down and fasten and unfasten them with one hand. The seat removes tool-free whenever the space is needed for the weekly shop or other load-carrying jobs.
There's a lockable compartment built into the down tube for extra in-bike storage space as well as an optional front carrier that's compatible with a range of baskets and bags and carries up to 20kg of additional load.
The Trike Hybrid is powered by Bosch's fourth-generation CX drive unit which supplies 85Nm to deliver plenty of power. Its 750Wh battery is integrated underneath the cargo box and removes for charging or can be charged in situ.
Up front is a Suntour Mobie34 Cargo suspension fork with 100mm of travel. Tektro Auriga Twin+ HD-E745 disc brakes with a parking lock mechanism disc brakes keep your speed in check, and there's a stepless hub gear for easy pedalling on any route.
As for parking it up outside your home - no car parking space required of course - it comes with a custom protective cover to keep rain and dust off.
Two versions are available - the Trike Family Hybrid and the Trike Cargo Hybrid, both priced at £6,499.
Think about it, do you really need a car?
For all the details check out Cube's website.
Thank you for reading 20 articles this month* Join now for unlimited access
Enjoy your first month for just £1 / $1 / €1
*Read 5 free articles per month without a subscription
Join now for unlimited access
Try first month for just £1 / $1 / €1