LAS Victory helmet review
We've tested helmet maker LAS's next to top Victory helmet. How did it shape up?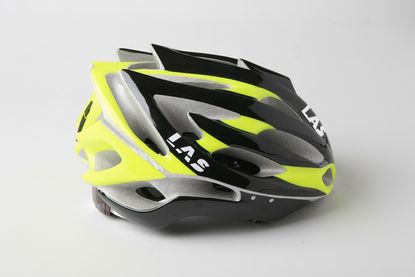 The LAS Victory helmet is a high quality helmet, comfortable and well finished with the extra you'd expect from a top-end lid.
Reasons to buy
+

Comfortable, well padded fit

+

Magnetic buckle is easy to use

+

Well finished

+
Reasons to avoid
-

Padding tends to get sweaty
I tend to get pressure points from many helmets but this is not a problem with the LAS Victory helmet. In part this is due to the comprehensive padding, which stretches well towards the back of the helmet. But it's principally due to the really comfortable fit and the helmet being well shaped for my head.
LAS has been making helmets, and helmets alone, near Bergamo in Italy since 1974 and the LAS Victory helmet is second only to the Victory Supreme in its helmet line-up. It's got 25 vents and uses Cateye's Evo 2 adjustment system. There is a large dial adjuster at the back of the helmet to make it easy to get the fit right. The finish is first rate with a well finished polystyrene core and quality look to the facing which includes a raised silver LAS logo.
Watch: helmet buyer's guide
The straps are wide and comfortable. They attach with a magnetic buckle which is easy to get done up and undone but keeps the helmet securely in place once fixed. There's a padded chin protector too.
>>> Buyer's guide to summer cycling clothing
The standard internal padding is in once piece and includes a bug net, which I have found useful on summer rides. The LAS Victory helmet also comes with a spare pad minus the net, a spare chin protector and a helmet bag.
Even with the bug net in place I've found the LAS Victory helmet helmet to be comfortable on hot days. Although the extent of the padding means that there's a bit less airflow than in some helmets, it also mops up sweat so it doesn't drip down into your eyes. It does tend to feel a bit damp when you remove the helmet at the end of a ride though.
>>> 11 cycling products you definitely don't need (but secretly want)
All-in-all the LAS Victory helmet is an impressive piece of kit: comfortable, well finished and competitively light at 272g. It's available in seven different colour schemes too.
Visit Chicken Cycles (opens in new tab) for more details.
Thank you for reading 5 articles this month* Join now for unlimited access
Enjoy your first month for just £1 / $1 / €1
*Read 5 free articles per month without a subscription
Join now for unlimited access
Try first month for just £1 / $1 / €1