Polaris Tornado jacket review
The Polaris Tornado provides both windproof protection and breathability, but doesn't do much to help you be seen on the roads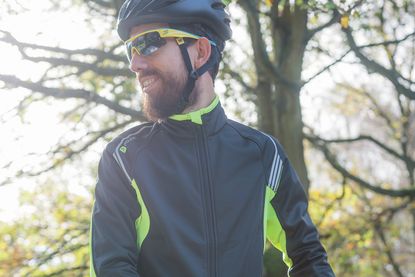 The Polaris Tornado jacket is a decent jacket which provides a good balance of wind protection and breathability. The visibility is good if not amazing, while the loose fit makes it more suitable for relaxed riding.
Given its name, it is perhaps no coincidence that the Polaris Tornado jacket handles windy days well. The whole front of the garment is made from windproof fabric, whereas the rear uses a lightweight, breathable material. It's great for fast riding days when you need to lose body heat during high-effort bursts but also stay warm on the descents.
The visibility of the Tornado could be better. Though the rear is almost completely fluoro yellow, the majority of the front is plain black. The fluoro rear is great for visibility, of course, but a more even distribution around the whole garment would be much better. For riders wearing backpacks, visibility will be severely diminished. There is some reflectivity and hi-vis built in, though, so all is not lost.
The fit of the Polaris Tornado jacket is casual, so there is plenty of room in the sleeves and chest. For our small-sized tester, it was just about right for relaxed rides, though we'd choose a slimmer jacket for fast riding.
For casual cyclists, this is a great, reasonably high-visibility jacket to wear on training rides. It'll keep a chill wind at bay without causing you to overheat. That sounds quite specialised, but for the Sunday club run, it's on the money. We'd like to see more all-round visibility, and perhaps a more fitted finish but, other than those niggles, Polaris has put together a nice comfortable jacket.
For more info visit the Polaris website.
Thank you for reading 10 articles this month* Join now for unlimited access
Enjoy your first month for just £1 / $1 / €1
*Read 5 free articles per month without a subscription
Join now for unlimited access
Try first month for just £1 / $1 / €1