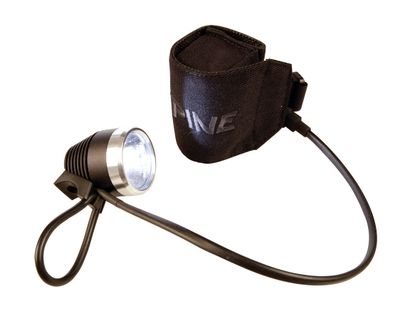 The Lupine Tesla4 is a product that outshines the competition.
For
+

Four LEDs in one unit

+

Run times of three, nine and 24 hours

+

Bright enough for riding at full speed on unlit roads
Against
-

Occasionally a 'hotter' centre would have been good for descending
When it comes to performance lighting Lupine is very much at the forefront of the market, and its latest offering, the Lupine Tesla4, offers massive light at a previously unheard of price.
Lupine has designed the unit to be relatively 'no frills'; three settings offer run times of three, nine and 24 hours depending on the output.
At first it looks as though there is just one LED but close examination reveals that four have been built into one unit. Lupine is the first to offer this and the performance is therefore ahead of everyone else's. At 700 lumens the output is enough to sensibly ride on unlit roads at full speed. With a wide spread of light there were a couple of times, usually when descending, that I wanted more range and a 'hotter' centre but these numbered only a few.
Thank you for reading 5 articles this month* Join now for unlimited access
Enjoy your first month for just £1 / $1 / €1
*Read 5 free articles per month without a subscription
Join now for unlimited access
Try first month for just £1 / $1 / €1