April's Tech of the Month: Canyon Aeroad with SRAM AXS, new Vittoria tyres and Fulcrum wheels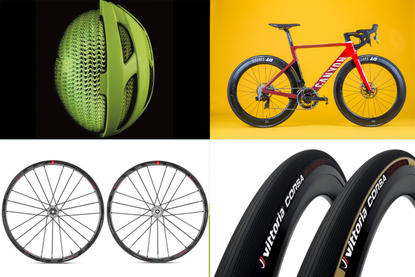 The Cycling Weekly Tech Team takes a closer look at some brand new product from SRAM, Vittoria and Fulcrum
It has been a month of new product and so the tech team takes a closer look at a few of them including the controversial new helmet from Trek and Bontrager. It caused a bit of a stir with MIPS, a safety technology company, disputing its claims.
James Bracey went to see how Vittoria tyres are made with new functional graphene and the team takes a look at the still very stunning Canyon Aeroad, which now has SRAM Red eTap AXS groupset built on it.
Vittoria TLR Graphene 2.0
New functional graphene is moving the performance gain of tyres with graphene to a whole new level, according to Vittoria. Its new 2.0s are said to have improved on all fronts to offer a better racing tyre.
Vittoria tyres of old were great and improved massively in wet conditions over the years so testing should provide us with an even bigger smile this time around.
Bontrager WaveCel XXX
Bontrager was at the centre of some controversy with its new WaveCel technology last month with MIPS disputing its rather bold claims.
The new XXX race helmet is one of four lids that come with the WaveCel technology. It claims that its new helmet is 48 times better at protecting against concussion compared to a conventional EPS foam helmet. Going onto to say that 99 out of 100 times it prevented concussions!
Those are both massive claims and despite those both being hard to prove in reality, we feel that improved safety in helmets, however large or small, it a good thing. This style of technology has been seen in both Smith and Endura for a while now too.
Fulcrum Racing Zero Carbon DB
Fulcrum wheels have always been a go to set of wheels whatever the price point. It has managed to produce performance lead hoops for a good few years with the Racing Zero Carbon wheels in particular being excellent.
They have now been updated with disc brakes as an option, with the DB version coming in tubeless ready design too using Fulcrums two-way fit. That means that you can use both clincher and tubeless tyres.
Annoyingly, the rim brake version doesn't come in a tubeless ready option and something that we feel is holding back that particular wheel. Fulcrum does this with all its rim brake wheels at the moment.
These are a pricey set of wheel costing £1899.99, although if you wanted a performance wheelset that you could use on any terrain, these would be them.
Canyon Aeroad CF SLX 9.0 SL with SRAM Red eTap AXS
Now, as we state in the video, the Canyon Aeroad hasn't been updated for a while. But we got to take it for another ride thanks to Canyon equipping it with the new SRAM Red eTap AXS groupset, which meant that we rediscovered how good this bike is.
There have been so many aero bike updates in the last few years. The Aeroad is a staggering four years old now and still going strong.
It is a comfortable and racey bike and with the new groupset and paint job just looks amazing.
Thank you for reading 20 articles this month* Join now for unlimited access
Enjoy your first month for just £1 / $1 / €1
*Read 5 free articles per month without a subscription
Join now for unlimited access
Try first month for just £1 / $1 / €1