1989 Tour de France stage eight: Earley to rise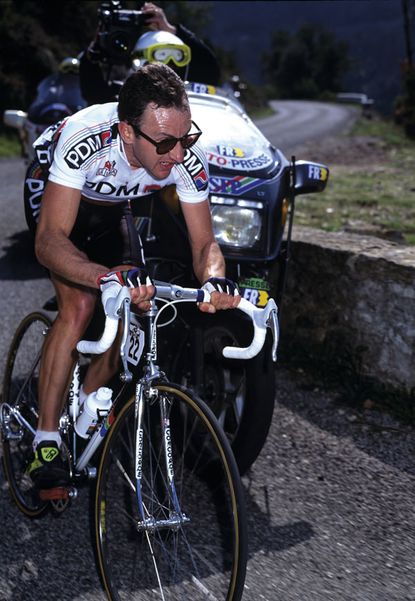 MASTER TACTICIAN EARLEY
Sunday July 9, 1989

Labastide-Pau, 157km



Martin Earley's name now joins the exclusive list of Tour de France stage winners after his climactic victory from a four-man break on the eve of the first mountain stage at Pau on Sunday.
With perfect judgement, Earley (PDM) attacked uphill through the town with 700 metres to go to win by four seconds.
Second was French champion Eric Caritoux (RMO), third Australia's Michael Wilson (Helvetia) and fourth Philippe Louviot (Z-Peugeot), whose brave lone bid to win ended when the three breakaway companions he had not long deserted reclaimed him on the outskirts of the town.
Two others narrowly missed making the junction, but were close enough to see Earley's sudden and convincing attack. They were Laurent Bezault (Toshiba) fifth, at eight seconds and Valerio Tebaldi (Chateau D'Ax) sixth in the same time.
And hurrying in too late as usual – there is yet to be a bunch sprint for first place in this Tour – came the main pack from which Holland's Steven Rooks completed PDM's good day by winning the bunch sprint for seventh, shadowed by his team-mate, points leader Sean Kelly, eighth.
Earley, 27, is no ordinary domestique. The Dubliner won a mountain stage of the 1986 Tour of Italy and when team duties have permitted, he has been a force in several breaks in the big Tours.
And so three years on, the name Earley makes the headlines again. It was a traditional Tour de France start from the old town of La Bastide D'Armagnac 138 kilometres south of Bordeaux.
Deafened by brass bands, delighted by the infant majorettes all dressed in blue, and finally blessed by the cycling fanatic priest shod in trainers, the 188 riders began their eighth stage,
And then they were immediately held up by a demonstration against nuclear power. So 15 minutes later than the advertised 12.25 start, the Tour rolled out.
By Mancet (65 kilometres) Caritoux, Wilson and Earley had gained 50 metres and with dogged determination held this for six kilometres, before finally pulling away from the field.
Wilson was the best placed overall, 17th at 5-3. Earley, by contrast, was 98th at 13-14, and his win moved him to 97th for the main contenders saw to it that they gained little time.
Louviot counter-attacked from the main field seven kilometres later, at Nogaro, and closed a 35-second gap in 14 kilometres to make it four men in front. The main field was at 2-50.
The four worked smoothly and well. But then the ADR team once again sprang into action to limit their gains on behalf of their race leader Greg LeMond.
The pursuit intensified when Laurent Fignon attacked just after the Cote de Simacours (132km), one of four fourth-category climbs.
It looked bad for the four escapees when their lead came down to one minute with 20 kilometres to go. And as the situation deteriorated and the pack closed, Louviot made what appeared to be the smart move 14 kilometres from the finish.
Race followers agreed, there goes the winner. But Earley, Caritoux and Wilson had different ideas. And they swept him up through the wide sweeping bends in Pau where the whole race looked as if it was coming back together.
Caritoux stopped working as Louviot was caught, and Earley saw his chance, jumping hard for his first stage win in the Tour, a classic move that gave him plenty of time to lift both hands high in the air in salute.
STAGE RESULT

1. Martin Earley (Ire) PDM 3-51-26
2. Eric Caritoux (Fra) RMO at 4secs
3. Michael Wilson (Aus) Helvetia-La Suisse at st
4. Philippe Louviot (Fra) Z-Peugeot at 6secs
5. Laurent Bezault (Fra) Toshiba at 8secs
MAKE MINE A DOUBLE IRISH SAY PDM
Holland's PDM team had plenty to celebrate at Pau thanks to their two Irishmen, Sean Kelly, who wore the green jersey, and stage winner Martin Earley.
Earley said: "I got away with about 700 metres to go. It was uphill and I know this finish quite well. So I knew I had to attack because I was strong."
Had he thought he could win when he escaped with the three others in the break? "Well, if I'm ever riding for fourth place, I like to think I can get first just as well. And they weren't such great sprinters there, so my chances were as good as the rest."
How did he feel during the break? "I was feeling all right. I've been feeling all right for some time, but it's taken me five years to win a stage, that's all," he laughed.
Sean Yates described how the Earley break had gone away. "It was quite a hard day but I felt better than yesterday. It took them quite a time to get clear. They were attacking and attacking and we could see them going away."
"But they only got 50 metres up the road and it stayed that way for six kilometres. It was no easy escape. It wasn't a case of the bunch letting them go. We were after them. But they persisted and they stayed away. It was a great ride. He's a strong guy, is Martin."
KELLY CONFIRMS SPRINTING FORM
Points leader Sean Kelly continued his good sprinting form, taking fourth in the bunch sprint (actually eighth) 20 seconds behind his PDM team mate and fellow Irishman Earley. Kelly was delighted for him, saying, "It's good for him and good for the team. But it's especially good for him because he has been riding exceptionally well."
"He rode very well all last year and worked very hard to help me win the Tour of Spain. And he's worked very hard for the team this year, too. But he has just never had the chance. I'm happy for him that it worked out. He deserves it."
And how did Kelly feel, leading the points competition he last won in 1985, was he going to keep it? He gave that characteristic shrug and said, "Well, I'm going to try and keep it."
Did he decide that beating Soren Lilholt in the Catch sprints was the best way to take the green jersey off him? "Well, it was Lilholt who made (raced for) the Catches. I just had to go after him. And I don't know what happened to him (Lilholt was beaten every time by Kelly). Maybe he had a problem. It's very tiring going for the Catches."


Thank you for reading 10 articles this month* Join now for unlimited access
Enjoy your first month for just £1 / $1 / €1
*Read 5 free articles per month without a subscription
Join now for unlimited access
Try first month for just £1 / $1 / €1
Keith Bingham joined the Cycling Weekly team in the summer of 1971, and retired in 2011. During his time, he covered numerous Tours de France, Milk Races and everything in-between. He was well known for his long-running 'Bikewatch' column, and played a pivotal role in fighting for the future of once at-threat cycling venues such as Hog Hill and Herne Hill Velodrome.