1989 Tour de France stage seven: De Wilde wins sprint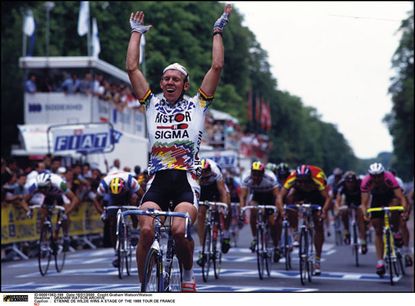 A SPRINTERS' DAY AT LAST
Saturday July 8, 1989

Poitiers-Bordeaux, 258.5km
Showing sparkling form, Ireland's Sean Kelly took over the green jersey of points leader after surviving a fall with 163 kilometres covered of this second longest stage of the 1989 Tour.
It was also one of the wettest stages, rain pouring down on the field which also had to battle into a headwind for most of their level run south-west to the Atlantic coast.
It was like the old days as 34 year-old Kelly went tearing after the intermediate Catch sprints to relieve Soren Lilholt (Histor) of the points lead. Although Kelly didn't win one sprint, he was four times second to Panasonic's John Talen who took over the red jersey of Catch leader.
But Kelly took the bigger prize, the green jersey, because his Catch points, when added to those gained by his superior daily stage placings, gave him more than twice as many points as Talen and six more than Lilholt.
Kelly's best placings thus far were third in the prologue, fifth on stage one, fourth with his team PDM in the team time trial, 10th on stage three, 10th on stage four, and now 11th in the mad rush by 149 riders at Bordeaux where Etienne De Wilde (Histor) scored a brilliant sprint victory.
And after De Wilde received the applause of the crowd, Kelly mounted the podium where he proudly donned the green jersey he last won outright in 1985, and before then, in 1983 and 1982.
But what a miserable day for the riders and spectators alike. Normally the sun is baking the roof tops and vineyards of this famous wine-growing region when the Tour goes through. But last week storms had plagued the region, destroying some valuable grape crops.
Because it rained heavily for much of the stage, the field took things calmly for 141 kilometres. They were slower than their slowest schedule, averaging only 29 kilometres an hour.
Only four Catch sprints had enlivened the race until then, and three of them were straight repeats. For John Talen (Panasonic) won all four, with Kelly second each time, and Soren Lilholt (Histor) stuck in third slot for three of them, but not placed at all for the fourth. Lilholt was unable to defend the green jersey he had held since stage four at Wasquehal.
The last Catch was taken by former race leader Acacio Da Silva (Carrera) with just over 23 kilometres to go. But by then the whole pack was in full flight, driven by Panasonic with Teun Van Vliet doing most of the work. Da Silva's move was one of many breakaways to erupt from the pack all the way into Bordeaux.
But just as an earlier 13-man break had been pulled back after 16 kilometres of freedom after half-way, so all but one of these last purges were contained.
Hernan Frison (Histor) had begun the closing session, bravely persisting with his bid begun at Villexavier (170km) where he had counter-attacked as his two companions, Stephen Hodge the Australian riding for Paternina, and Toine Poels (Superconfex) sank back into the peloton as they crossed the long girder bridge over the Gironde river. But Frison was reeled in and Da Silva took the final Catch.
There followed multiple attacks as men shot away both sides of dual carriageways, weaving and dodging. Gerrit Solleveld (Superconfex) surged away in the last six kilometres but he, too, was snatched back.
It was De Wilde's brutal attack which defeated them, and only three men scrambled for his wheel: Steve Bauer (Helvetia), Jean-Claude Colotti (RMO) and Patrick Tolhoek (Superconfex), Bauer jumped hard with a kilometre to go, but it was a mistake for on the wide finishing straight, De Wilde shot by to win from Colotti and Tolhoek, leaving Bauer to salvage fourth place. Jean-Paul Van Poppel (Panasonic) won the bunch sprint for fifth place at four seconds.
There were no major overall changes. Except that once again, Kelly jumped two places to 16th, cutting another 16 seconds off his deficit on LeMond which now stood at 4-54.
STAGE RESULT

1. Etienne De Wilde (Bel) Histor-Sigma 7-21-57
2 Jean-Claude Colotti (Fra) RMO at st
3 Patrick Tolhoek (Ned) Superconfex at 2secs
4. Steve Bauer (Can) Helvetia-La Suisse
5. Jean-Paul Van Poppel (Ned) Panasonic both st
OVERALL

1. Greg LeMond (USA) ADR 33-19-39
2. Laurent Fignon (Fra) Super-U at 5secs
3. Thierry Marie (Fra) Super-U at 40secs
4. Erik Breukink (Ned) Panasonic at 1-51
5. Sean Yates (GB) 7-Eleven at 2-18



POINTS

1. Sean Kelly (Ire) PDM 113pts
2. Soren Lilholt (Den) Histor-Sigma 107pts
3. Etienne De Wilde (Bel) Histor-Sigma 97pts



TEAM

1. Super-U 100-2-1

2. ADR at 8-11
3. 7-Eleven at 9-41


Thank you for reading 10 articles this month* Join now for unlimited access
Enjoy your first month for just £1 / $1 / €1
*Read 5 free articles per month without a subscription
Join now for unlimited access
Try first month for just £1 / $1 / €1
Keith Bingham joined the Cycling Weekly team in the summer of 1971, and retired in 2011. During his time, he covered numerous Tours de France, Milk Races and everything in-between. He was well known for his long-running 'Bikewatch' column, and played a pivotal role in fighting for the future of once at-threat cycling venues such as Hog Hill and Herne Hill Velodrome.