Castelli Mondiale bib shorts review
The Castelli Mondiale bib shorts give you Castelli's renowned quality, without the in-your-face design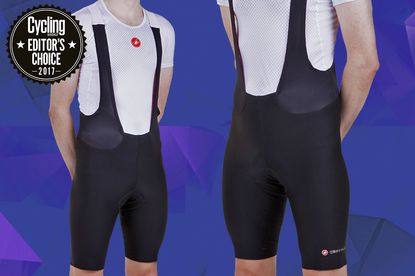 The Castelli Mondiale bib shorts are the brand's top of the range design. We've been using them on our longer rides for for most of 2017. Here's why they've made it to the 2017 Editor's Choice list.
The Castelli Mondiale bib shorts are made of 50% lycra, a very high content of the elastic fabric, so there's lots of stretch and they feel very soft on the skin. The shorts's fabric has been cut to minimise seams, with those seams that there are not being flatlocked, but taped on the inside to smooth them off.
Castelli suggests that the Mondiale shorts are designed for long training rides, but that you should race in its Free Aero Race shorts, which suggests that the emphasis with the Mondiale is above all on comfort.
The Castelli Mondiale bib shorts come with the company's very comfortable Progetto X2 Air seatpad which it uses in its other high-end offerings, such as the hot-weather Castelli Inferno bib shorts. It has a continuously variable thickness between 3mm at the edges up to 15mm under the sit bones and a pre-formed shape to conform to the body. The pad is flatlock stitched into the shorts.
As with all things Castelli, sizing on the Mondiale shorts is a bit of a moveable feast, and I thought at first that a medium was too small, as I had a bit of sausage-leg and a squeezed in feel. But after a few hours riding and a couple of washes they have relaxed and are a much more comfortable fit, if still close. That closeness means that the pad stays well placed. It's very comfortable for longer rides too.
Design-wise, the Castelli Mondiale bib shorts are very understated, particularly by Castelli standards: apparently it's not yet possible to print colours and logos onto the fabric. But the deluxe finish is emphasised by the small raised scorpion logo and silver Castelli branding on the left leg. And since they can't be printed, the pros can't use them yet.
If you're after a top end pair of bib shorts the Castelli Mondiale shorts are a good option. They're comfortable with premium features – and a premium price – and a quietly classy look which will match pretty much anything and doesn't scream Castelli at you.
Thank you for reading 5 articles this month* Join now for unlimited access
Enjoy your first month for just £1 / $1 / €1
*Read 5 free articles per month without a subscription
Join now for unlimited access
Try first month for just £1 / $1 / €1