'I was standing at the bar and my leg snapped in two': From shock diagnosis to Paralympic ambition
Refusing to let amputation sideline him from sport, Jake Woods is rebuilding his athletic career – only this time it's his hands turning the pedals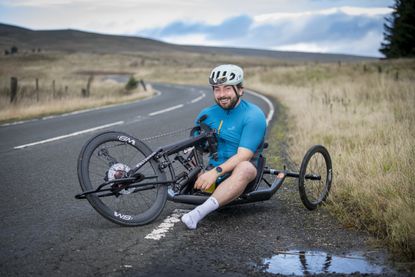 (Image credit: Future)
Get The Leadout Newsletter
The latest race content, interviews, features, reviews and expert buying guides, direct to your inbox!
Thank you for signing up to The Pick. You will receive a verification email shortly.
There was a problem. Please refresh the page and try again.
This article was originally published in Cycling Weekly's print edition as part of the long-running MY FITNESS CHALLENGE series.
"I remember sitting in the bath on a Sunday night and thinking about who on the squad was faster than me and how I would beat them." Jake Woods is retracing the emergence of his competitive instinct as a teenage swimmer – leaving behind his inactive child self and transforming into an athletic man. "As I lost weight and gained confidence, I built myself up through my own sheer will." Over the next few years he reached national level in the pool, qualified as a beach lifeguard in his native Sunderland, and while at university threw himself into triathlon. "My first race was a half-Ironman," he grins, "and I did just over six hours, which I thought was totally fine as a first attempt."
After moving to Glasgow and qualifying as an architect, Woods continued to take part in running and triathlon events to keep fit. Three years ago, aged 27, he was running the 2019 Glasgow half-marathon when his right arm inexplicably swelled up. "Initially I thought my watch was done up too tight, so I loosened it, and still finished in one-hour 40," he recalls, "but in the gym a few days later, it happened again – my arm swelled to three times its normal size." Woods spent a week in hospital undergoing tests and scans, which eventually diagnosed a blood clot in his upper arm. But that wasn't all they found.
"The imaging also came across a massive tumour in my femur," he says. "I remember being really nervous going into the MRI, but directly afterwards they told me it was benign, so that put my mind at rest. The plan was to come back in a year's time, just to monitor it." Woods resumed his regular activity and tried to put the thigh bone problem to the back of his mind, until a night out in Scarborough in February 2020. "We were messing around in the pub and my brother jogged his knee into the back of my leg and my femur shattered in half."
Woods shows me the X-ray on his phone: his femur in two pieces, jagged at each end. "I felt it go," he says. "Thankfully I'd had a few pints so it didn't hurt as much as it might. I grabbed onto the bar and lowered myself to the floor, then just lay there screaming," he laughs at what must be a traumatic memory. "I knew straight away my leg had broken where the tumour was."
After a fortnight in traction, Woods underwent surgery to screw the two broken parts back together. Upon being discharged, he still believed the cancer was benign and that the operation had successfully shored up the break – until the phone rang. "A week after getting home, still recovering from surgery, I got a call from the specialist nurse to go back in the next day," he says. "I could sense the urgency in his voice." By cruel coincidence, that same day Boris Johnson ordered UK citizens to stay at home; the country was going into lockdown.
Woods hauled himself on crutches to the consulting room, where four sets of medical eyes looked at him inscrutably from masked faces. "We were sitting there with the oncologist, the surgeon, the registrar and the specialist nurse," says Woods. "I'd no idea they cut legs off for cancer, and instead I was thinking, 'Chemo? We can do this. Hair loss? Who gives a shit?'" The diagnosis was as bad as expected: Woods had osteosarcoma, a rare malignant bone cancer, but the treatment plan was worse than he had dared to imagine. "They kept referring to a surgery and not saying what it was." Woods was confused – why operate on a leg that had just been fixed? "Then the penny dropped, and I figured it out 20 seconds before the surgeon told me. You know in Alfred Hitchcock movies where the floor falls away? That was the sensation." The specialist informed him that his entire right leg would be amputated, along with half his pelvis, followed by six months of intensive chemo – confined to hospital, with no visitors allowed, for six days a week. It was late March 2020: while for most of us the world had stopped, for Woods it was collapsing.
Leading up to the amputation, he was determined to stay as fit as possible. "I was hooked into the chemo machine still doing circuits with weights," Woods smiles. "During the mad rush for turbo trainers at the start of lockdown, we managed to find one second-hand, and I was pedalling with one leg, trying to do as much as I could to get my body ready." The preparation was not only physical but psychological too. "I held a funeral for my leg, where I'd dubbed music over videos of me dancing around to 'Hips Don't Lie' by Shakira, stuff like that. My pals gave readings of funny poems they'd written, it was really elaborate." Woods created a scrapbook from the event to have beside him when he awoke from the operation. "I included lists of all the things I'd still be able to do with one leg," he adds.
The surgery took place in June 2020, and Woods recalls watching the entire Tour de France that September as chemo left him wiped-out. "The other thing that got me through was thinking about the things I was excited about doing," he says. "A Netflix documentary about the paralympics had just come out, and I must have watched it 10 times." Once he finally came off chemo in spring 2021, Woods tentatively resumed exercise. A few weeks later, a momentous day: he returned to his local outdoor pool. "It was really atmospheric, a cold crisp morning with steam rising from the water," he paints the vivid memory. "When I got out, I thought, this is going to be alright: I can still swim, I'm still moving."
Over the summer of 2021, Woods began to prepare for a return to competition. He researched paralympic sport and started a fundraiser for the near-£20k needed for a bespoke racing chair and handbike. "The bike arrived in March," says Woods. "It still needs a few more carbon mods, but this is a long-term project." What has it been like adapting to pedalling with hands rather than legs? "It's still really hard," he says, emphatically. "When I started, my arm-powered FTP was 108 watts and now I'm up to nearly 140." Though pedalling is tougher, the low-slung handbike does have aero advantages. Woods recalls a recent tour around the Isle of Arran. "Going downhill, I was doing 70 or 80kph – absolutely flying! That'll take a bit of getting used to."
Alongside building confidence on the road, the resurgent racer is training hard indoors. "I've managed to set up the handbike on a Tacx Neo turbo and rented a lockup garage. I get up at four or five most mornings to get in as much as I can on the turbo or rower before work." He is delighted that Zwift's latest update added handbikes to the virtual world. "That odd moment when you pass another handcyclist, it's really nice to feel a bit more seen, and it reminds me I'm not the only one doing this."
In July he took part in his first British Para-triathlon Championships and amazingly took bronze. "The field wasn't massive," he downplays the medal, "but both the guys who beat me are supported international athletes. It's all really exciting." It is impossible not to be taken aback by Woods's positivity, how he is treating his changed circumstances as an opportunity to test himself in new ways. "I've had one leg for two and a half years, and although I'm not young at 30, I'm new to being a para-athlete and still figuring out what I'm good at, what I can be competitive in and what I enjoy."
Behind this appetite for physical challenge is not only the competitive instinct he developed as a teenage swimmer but also a new sense of urgency. "There's nothing I could have done to prevent my cancer," he says, "and I know there is a chance of recurrence, so it's like having a clock on my shoulder." The ticking of that clock is a constant reminder. "Stuck in hospital, I promised myself that when I got out, I wouldn't do anything that didn't bring me joy." It's how all of us should live, if only we could find the courage. "I don't want to regret any of this time when I am able to move, to be free," Woods continues. "If ever I feel too nervous to do something, or just can't be arsed, I remember those nights in hospital when I would have given anything to be in the position I am now. I'll push to make it happen."
Kit with a conscience: 'It's an honour to work with him'
Lily Rice, creative director at Presca – "the world's first climate-positive sportswear brand" – tells us why the brand appointed Woods as an ambassador.
"We first made contact with Jake through Instagram, having noticed a post about the funeral he'd held for his leg. It was clear that he is an incredible character, the way he's tackled everything he's been through. We offered him the chance to come on board as part of the team.
"We also work with the Lennox Children's Cancer Fund, and one of the cancer survivors they support is Sophia, a 10-year-old amputee. She's an incredible kid who re-learned to ride a bike with one leg, and she really wanted to be in a sports photoshoot. We arranged it and brought in Jake to meet her and take part in the shoot.
"Presca's workshop offers a variety of customisation services to disabled people, helping to remove barriers to getting into sport. It's free on any Presca garment and for a nominal fee on other brands. We've already altered a tri-suit for Jake.
"His humour and attitude – the hallmark of a high-achieving sportsperson – he has applied to every new challenge in his life. He's doing amazing things and we're here to support him 100%."
The full version of this article was published in the 15 December 2022 print edition of Cycling Weekly magazine. Subscribe online and get the magazine delivered to your door every week.
Thank you for reading 20 articles this month* Join now for unlimited access
Enjoy your first month for just £1 / $1 / €1
*Read 5 free articles per month without a subscription
Join now for unlimited access
Try first month for just £1 / $1 / €1
Get The Leadout Newsletter
The latest race content, interviews, features, reviews and expert buying guides, direct to your inbox!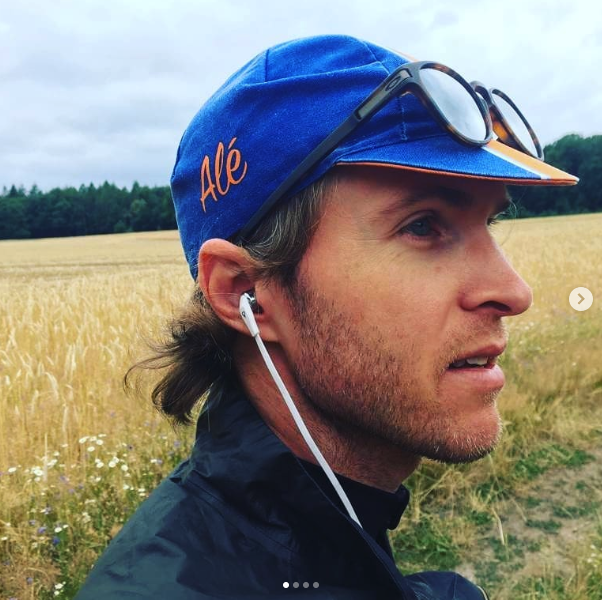 David Bradford is fitness editor of Cycling Weekly (print edition). He has been writing and editing professionally for more than 15 years, and has published work in national newspapers and magazines including the Independent, the Guardian, the Times, the Irish Times, Vice.com and Runner's World. Alongside his love of cycling, David is a long-distance runner with a marathon PB of two hours 28 minutes. Having been diagnosed with retinitis pigmentosa (RP) in 2006, he also writes about sight loss and hosts the podcast Ways of Not Seeing.