Q&A: Don't ignore appetite loss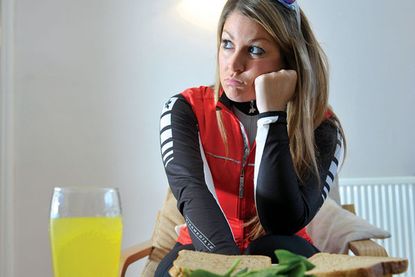 Usually I have a healthy appetite but find it is severely suppressed after longer rides of 60 miles plus. I recently completed a 100-miler and carried nuts, protein bars and gels, but could only manage a few gels.



The problem continues post-ride, and I feel it's affecting my recovery. Come the next day, I eat like a horse but fear it's too late. Should I try new foods, or try to survive on gels alone?


Thomas Pink, Watford
Thomas, it's quite common to suffer suppressed appetite following prolonged exercise. In fact, a study by Loughborough University researchers published in the American Journal of Physiology discovered a link between extended endurance events and a reduction in the hormone ghrelin, which stimulates appetite and an increase in the hormone peptide YY, which suppresses it.
This is often followed by an appetite surge some time after the event as your hormones return to normal, which is probably why you eat like a horse the next day. This creates problems. Firstly, as you say, you are not recovering optimally post-exercise and this would certainly affect the speed at which you are able to go out and effectively do further training. Secondly, the resulting appetite surge often causes over-compensation, eating more than is needed. This is why extensive aerobic exercise doesn't always lead to weight loss.
Certainly, better fuelling on the bike is a good idea. Gels are great for instant short-term bursts of energy but as the sole fuel source for 100-mile rides, they're not so good.
Experiment with more prolonged, slower-release energy foods too. If you're doing sportives, the better events will have well-stocked feed stations. If you're doing 100-milers purely as a training exercise, plan some pit-stops in advance.
Next, look at what you do immediately post-ride, as the hour following completion is the optimal time for recovery nutrition. Post-exercise appetite suppression oftens means you don't feel like eating - you have to overcome this. You don't have to eat a solid meal right away; liquids are often easier to digest, so use a good quality energy replacement drink, protein shake or even chocolate milk as soon as you finish.
Do some research before choosing them, though, as not all of these products contain balanced nutrition and many are high in sugar and calories. You might be better grazing on small portions of whole foods while you get changed, do post-ride stretches, etc to rebuild energy early and ensure you don't overeat later on.


Huw Williams is a BC Level 3 coach
Read Cycling Weekly magazine on the day of release where ever you are in the world International digital edition, UK digital edition. And if you like us, rate us!
Thank you for reading 20 articles this month* Join now for unlimited access
Enjoy your first month for just £1 / $1 / €1
*Read 5 free articles per month without a subscription
Join now for unlimited access
Try first month for just £1 / $1 / €1