Cycling in a group: get it right!
Don't let differences in fitness or strength sour a riding relationship. Rebecca Charlton suggests a few quick tips to create cycling harmony on your Sunday ride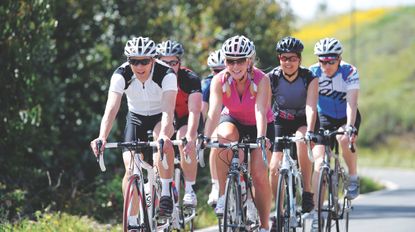 14th October 2010 Words: Rebecca Charlton Photos: Rupert Fowler, Andy Jones
Whether you're the fittest in your regular riding group, dishing out the pain, or the person who tends to be on the receiving end, drifting to the back when the hammer goes down, you've probably been in the situation where you're riding at a wildly different pace to your mates, and it's not ideal.
However, there are plenty of tricks that can prevent mass fall-outs, punch ups, and keep you together so that everyone reaps the fitness benefits. Read on for happy and harmonious riding sessions.
Finding things all too easy?
If you're lucky enough to be the person in the driving seat and often find you're the strongest in the pack, it's good to vary your riding a bit so that you don't end up frustrated or bored. We've come up with a few ways to shake things up and keep your rides challenging.
No slacking!
When you're regularly riding with individuals that have less experience or fitness than you, it's tempting to sit back and enjoy it, but while you do deserve to reap the rewards of your hard work, it's good to keep pushing yourself. While the obvious way to move forward is to go out with riders that are stronger than yourself, there are plenty of opportunities to set new goals in a mixed ability group so that you're getting the most out of the session. One option is using group rides as a recovery session following a harder training day that you've set yourself. If you're finding things easy, this is the perfect intensity to turn your legs over and get rid of that burn — just make sure you're not covering too much mileage on a rest day or this may lead to fatigue.

Towing
The term 'giving a tow' or 'dragging' a rider usually means riding directly in front of someone with them sitting closely on your wheel so that you make things a little bit easier for them. When towing a rider, you want to make sure that they're comfortable with the pace, so verbal communication comes in handy. Try agreeing on some clear words to indicate if your buddy is struggling. 'Steady', 'easy', or 'ho' are quite commonly understood for easing up the pace, while 'allez' or 'h'up' will tell you the rider is comfortable enough to go faster.
Hand slings
Another good technique to try is to 'hand-sling' another rider. Build up in small steps by getting comfortable grabbing another rider's hand then position yourself slightly forward and gently pull them ahead of you and let go. This will provide them with forward momentum and can help them get back to the group. Take it in turns to practise on each other.
Verbal encouragement
You may be feeling great but the person next to you may be having a difficult day so try to really encourage each other and acknowledge everyone's efforts. Psychological aspects enter the equation when it comes to an effective group ride — when you're the one on the back foot it's easy to lose motivation. If you
can get everyone to the end of a ride with a smile on their face, that's a good job done.
Make lighter work of your rides
We've all been there. You're riding on your limit but everyone else appears to be having a walk in the park. Firstly, this is quite often not really the case, so remind yourself that other people may be suffering too but hiding it well. If you do find yourself truly suffering you don't need to throw in the towel. Ride savvy and you'll make your life significantly easier on the bike.
Riding with stronger cyclists
It's perfect to ride with a group where you're made to suffer — this will make you much fitter in the long run as pain turns to gain. That said, it's important to recognise the difference between trying to stick on the wheel of a friend who encourages improvement and giving yourself such a smashing that you want to quit the sport. You have to enjoy your riding time after all.
Hill reps
Hill repeats are exactly what it says on the tin — going up a hill repeatedly! For most of us, once is enough, but if you really want to improve your climbing the only way to get better is by tackling things head on and riding as many hills as you can. For stronger riders, hill reps can be a perfect way to re-join the group after climbing up at a higher pace then riding back down and doing it again. This way, everyone's a winner.
Re-grouping
If you do agree to split up and ride at your own pace it's a good idea to wait and re-group at a convenient point so that everyone is safe in the knowledge that they won't be left alone or lose the route at a crucial turning point. It's worth keeping an eye out for anyone who may be dropping off the pace and wait for them to catch back up so you're not leaving someone demoralised, alone or potentially with a mechanical.
Cafe stops
We love a good cafe stop, keeping things relaxed, and providing a great excuse to have a rest and a cuppa. Why not set up a sprint to the cafe, give a head start to anyone who needs it and have some fun before a well-earned sit down.
Bunch riding
The way you form your riding group is key to a good session. Riding on the front can be tougher as you're taking the wind and making things easier for everyone else, but it also means you get to set the pace. Sometimes it's easier to sit at the front of the group because it means you don't get left behind. Sitting second wheel is the magic spot where you get dragged along without drifting too far back.
Picking a wheel
It's a good idea to pick a wheel and stick to it. Avoid staring directly at the rear tyre of that person but instead look slightly up the road so you can see any hazards ahead and, as a rule of thumb, try to aim your eye-line at the level of the person's lower back. If you know that there's someone in your group who is likely to ride erratically or sprint for signs, avoid choosing their wheel and instead find someone that tends to ride smooth and steady; that way you have a better chance of keeping up and staying motivated.
Good for everyone to try... pushing
We've all experienced that ride where the lungs are bursting and you're cursing your friend as they disappear over the crest of the hill. They leave you wondering why on earth you agreed to ride with this superhuman being who simply glides into the distance without so much as a bead of sweat appearing on their brow.
Learn to push and, equally, don't be afraid to be pushed by others. Putting a hand on each others' backs when needed is a great tool for confidence and can be a useful technique in keeping a group together, making things easier for everyone. A larger group equates to a smoother ride for all involved due to having greater shelter from the wind. Longer climbs are sometimes a good place to let everyone go at their own pace, ensuring you re-group again following the descent down the other side.
If you're struggling, ask someone who's finding it easy to give you a shove and then sit close to them, keep your core steady and keep pedalling hard to share the workload. You'll probably end up getting a better workout this way, as the other rider enables you to maintain a higher pace while giving you a little assistance with gravity.
If you're the person feeling strong, practise pushing others by getting smooth and confident with one hand on the tops of the bars. This will challenge your heart and lungs to a greater extent so is great cardiovascular as well as leg strength training.
Thank you for reading 10 articles this month* Join now for unlimited access
Enjoy your first month for just £1 / $1 / €1
*Read 5 free articles per month without a subscription
Join now for unlimited access
Try first month for just £1 / $1 / €1
Founded in 1891, Cycling Weekly and its team of expert journalists brings cyclists in-depth reviews, extensive coverage of both professional and domestic racing, as well as fitness advice and 'brew a cuppa and put your feet up' features. Cycling Weekly serves its audience across a range of platforms, from good old-fashioned print to online journalism, and video.