Peter Sagan's training secrets: A week in the life of the triple world champion
Peter Sagan has already established himself as not only one of the best riders of his generation, but also of all-time. Here Sagan and his coach Patxi Vila go through a typical November week in training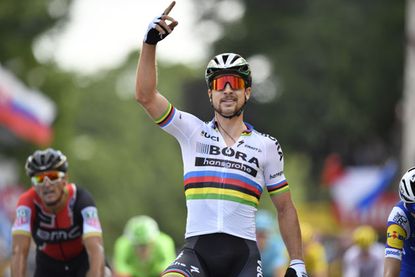 (Image credit: Yuzuru Sunada)
The first cyclist to win three World Championships in a row, Peter Sagan doesn't need much by way of introduction.
Sagan has won a total of 101 races as a professional (including eight stages at the Tour de France, 15 at the Tour de Suisse and 16 at the Tour of California).
The 27-year-old has won Ghent-Wevelgem twice and the Tour of Flanders once. He finished 2017 third in the UCI world rankings.
Here, Sagan's coach Patxi Vila describes the Slovak's schedule for November 20-26.
With a total training volume of around 19 hours in one week, Sagan's opening week of base-building would be most amateurs' hardest ever week (or at least a very good training camp). For him, though, the main goal is merely getting back in the groove after the off-season.
If you want a take-away lesson from Sagan's week, it should be the crucial importance of strength-and-conditioning training at this time of year.
>>> Peter Sagan reveals his opening race for the 2018 season
Peter Sagan stats
Age: 27
Height: 6ft
Weight: 73kg
Lives: Monte Carlo
Rides for: Bora-Hansgrohe
Best results: Three-time world champ; five-time Tour green jersey
Week in training: November 20-26 2017
Monday
2hr ride and gym session
Week one of the base period is structured as one day of easy riding every other day. This is the beginning of the base period. In the morning, it will be an easy ride of two hours or so. The goal is mainly to spin the legs and make them ready for the evening. The ride will be followed by a gym session, which includes a circuit focused on speed. The goal of this workout is to engage the maximum number of muscle fibres working together.
Tuesday
3.5hr ride with long intervals
On the second day, the work on the bike becomes a little more specific. This is not a simple endurance ride or a steady-pace one. Instead, over a 3.5-hour ride, Peter will do four to six repetitions of 10 minutes at 85 per cent of his maximum aerobic power — not his FTP but rather his aerobic threshold (FTP indicates the anaerobic one). This aerobic power equates to around 60 to 70 per cent of his FTP.
Wednesday
4.5hr ride, including hills
This is the second endurance ride of the week.
It will be four to 4.5 hours long and will include two or three hills. Peter tackles each hill at 90 per cent of his maximum aerobic power. Again, the work done here is well below the FTP and even below the aerobic threshold, so it is an effort that's sustainable for a long time. The hills will be 10 to 20 minutes long and the goal is to ride them at sweet-spot but no harder. It's a nice, steady pace.
Thursday
Recovery ride and gym session
Thursday will be the week's recovery day. Recovery, in this case, doesn't mean full rest, but active recovery. In the morning, Peter will have an easy coffee ride of 1.5 hours and in the afternoon he will hit the gym again, with the same programme as on Monday — the gym session is the most important part of the day's training.
Friday
3.5hr ride, including short intervals
On Friday, the volume in the saddle rises again. Peter has three to 3.5 hours scheduled, including some short efforts. These workouts are aimed to boost his aerobic power. He will do two or three blocks consisting of 12 repetitions of one minute at 100-105 per cent of his max aerobic power, with two minutes' rest in between. The goal is to introduce a small amount of intensity, pushing hard for short bursts. This is done on rolling hills.
Saturday
Long ride
Saturday will be the longest endurance ride. The ride will be around four to five hours and will not have any specific workout within it. Peter needs that kind of freedom one or two days a week in order to ride with his friends and gruppetto. If he feels he needs to push on a bit, he will. Sometimes we add some torque efforts on the climbs, alternating three minutes at 50-60rpm and two minutes at 90rpm. This adds a strength element in an otherwise aerobic ride.
Sunday
Rest day
It is important at this stage of the season that Peter rests at least one day a week, when he needs to take it easy, as we are working to re-activate his body. "During the rest day I try to sleep a little bit longer," adds Sagan. "I'll watch a movie on Netflix, read a little bit, and if possible play on
the PlayStation."
Peter Sagan: Training Q&A
CW: What is your favourite training session and why?
Peter Sagan: The way I train depends on the period of the season and the goals my team and I have. I don't have a favourite training session because I always like riding my bike.
OK, but do you have a least favourite session?
I find it much more enjoyable when I ride with others. So, a training session that could be boring when alone is more interesting if I have good company.
How do you stay motivated every year?
I think the key is to enjoy what you do and always give your best. Obviously, I am a highly motivated professional athlete and I don't go to races just to take part. My aim is, always, to achieve the best result and win, if possible. However, in top, professional sports you can't always win. You aren't a robot; you will have bad days and days when things go wrong.
I appreciate the love and support of the fans, all around the world. Thousands of spectators spend countless hours under the scorching sun or the cold rain in order to cheer and applaud when you pass. Part of what we do in the race is for these people. They deserve it.
>>> Peter Sagan says fourth consecutive world title 'not impossible' despite mountainous 2018 course
What is the biggest training mistake you have ever made?
I think my biggest mistake was not to listen to myself when I should have.
What is the best piece of training advice you have ever been given?
A great coach once told me that doing one session less than you had scheduled is preferable to doing one too many.
Thank you for reading 20 articles this month* Join now for unlimited access
Enjoy your first month for just £1 / $1 / €1
*Read 5 free articles per month without a subscription
Join now for unlimited access
Try first month for just £1 / $1 / €1