13 defining moments of Lance Armstrong's career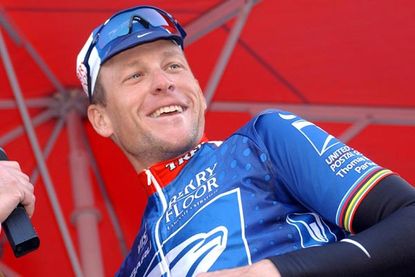 Lance Armstrong will appear on the Oprah Winfrey show in America tonight. It promises to be another high-profile event in the life of the American cyclist who loves the limelight.
Cycling Weekly takes a look back at the milestones of his career.
1. His first bike races
Armstrong started racing when he was 15 years old. He'd already been winning prize money in triathlons - lying about his date of birth so he could race against the seniors and therefore earn prize money - and so started racing Tuesday night criteriums in Richardson fields in Texas. He rode for the Hoyt team, a sponsored local club and said in his book, It's Not About the Bike, that he would tear the other riders' legs off to get the $100 cash prize. He also convinced organisers to let him race against riders of a higher category, and beat them too.
2. Debut in the pro ranks
Armstrong's first European race as a pro was the Classica San Sebastian in 1992. Armstrong had turned pro for Motorola immediately after the Barcelona Olympics that year where he finished 14th in the road race. It was Jim Ochowicz (now BMC) who signed him from the Subaru-Montgomery team (it was this team that eventually morphed into US Postal, not Motorola) and threw him in to the pro scene. His first race wasn't exactly an omen of things to come. In cold, wet conditions he finished alone in last place, half an hour down on winner Raul Alcala of Mexico, and felt so depressed that he considered quitting the sport.
3. Becomes world champion
One year after the humiliation of finishing last in San Sebastian where he was jeered and laughed at by spectators, Armstrong became world champion in 1993. At just 21 years of age Armstrong rode away from Miguel Indurain, Olaf Ludwig, Johan Museeuw, Maurizio Fondriest, Andre Tchmil and more of the biggest names in the sport. On a wet, cold day in Oslo, Armstrong was too strong for the rest of the field. Armstrong had also made his Tour de France debut that year (wearing number 34), winning stage eight, Chalons-sur-Marne to Verdun, from a small breakaway group. He pulled out of the race on stage 12.
4. Diagnosed with Cancer
Undoubtedly the single most defining moment in Armstrong's life is his cancer. Along with winning the Tour de France, the battle against cancer became an all-consuming passion for him. It was the focus of his book It's Not About the Bike, which was a best seller around the world, and led to him launching the Lance Armstrong Foundation (see number 6). Armstrong was diagnosed with testicular cancer in 1996. It spread to his lungs and brain, and effectively ended his cycling career. He had just signed a new contract with the French Cofidis team, who eventually annulled it. His recovery was almost as rapid as his diagnosis and extensive treatment, and he was declared cancer-free the following year.
6. Launches his charity
In 1997 he founded the Lance Armstrong Foundation. In its first year the one fundraising event was the Ride of the Roses cycle ride in Texas. Over the years it quietly grew in the background before its rapid rise in 2004. In 2003 the Foundation launched Livestrong.org, which would become the emphasis of the charity. It's explosion in 2004 was down to the Nike-manufactured yellow silicone wristbands. The charity brought them to the Tour and soon everyone was wearing them. This was the beginning of Livestrong's rise to fame. The charity moved its funding towards supporting people living with cancer and promotion of a healthy lifestyle rather than funding cancer research. Armstrong was chairman of Livestrong until October 2012 when he stepped down after being found guilty of running doping programmes in his teams throughout much of his career (see number 12).
7. Comeback number one
Armstrong returned to racing with the new US Postal team in Europe at Paris-Nice in March 1998, but all was not well. He finished a respectable 23rd in the prologue but climbed off the next day at the bottom of the Cote du Paron in Sens and got straight in to a team car. Then team boss Johnny Weltz told Cycling Weekly that "perhaps it is just as well that Lance pulled out now, if he's not able to recover." Armstrong himself was not available for comment. He was soon back in the US 'discussing his future' with his backroom staff.
8. Wins his first Tour
After a strong showing at the previous months Dauphiné Liberé, Armstrong started the 1999 Tour de France with a big statement of intent, winning the prologue and taking yellow. Few were expecting him to challenge for the overall even though he had given a glimpse of what was to come at the Tour of Spain the previous year where he finished fourth. Stage two took out several of his rivals following a huge crash on a slippery tidal causeway. Armstrong was in the front group while others lost over ten minutes. Armstrong won the stage eight time trial and then famously on stage nine to Sestriéres to all but clinch the yellow jersey. He and his team were untouchable from there all the way to Paris.
9. Wins his seventh Tour
By 2005 Armstrong had become the 'Marmite' figure of the cycling world - you either loved the seven-time winner of the Tour de France or you hated him. His first win in 1999 had been called the Tour of Redemption; he was widely acclaimed and said to have saved the Tour from the EPO-fuelled disaster of 1998. But by 2005 he faced more questions over the use of performance enhancing drugs than anyone else. His stock answer was that he had never tested positive, but that was a lie. In 1999 he tested positive for a corticosteriod, but his team doctor back-dated a Therapeutic Use Exemption (TUE) form for a medication for a saddle sore and the test was over-ruled. His final Tour win came ahead of Ivan Basso and Jan Ullrich and he retired immediately after.
10. Comeback number two
Armstrong kept himself busy in his retirement focusing on his work with Livestrong, but he couldn't stay away from cycling for long. Watching Carlos Sastre win the 2008 Tour made him think he could still win, so the following year he came back, his first race being the Tour Down Under, and event he was reputedly paid millions in appearance money for. The only problem was his long time team manager, Johan Bruyneel, was tied in to the Astana team of Alberto Contador, and Armstrong was never going to work with anyone else. The Armstrong-Contador rivalry caused ructions in the Astana team as many staff and riders sided with Bruyneel, but the Spaniard was too good. Armstrong eventually finished third, behind Contador and Andy Schleck. By the end of the race Armstrong had announced a new sponsorship deal with RadioShack to start a new American team for the following year.
11. Landis opens up
Armstrong's return was big news in the sporting world, but his former team mate Floyd Landis wasn't happy about it. As a former team mate of Armstrong's, he knew what had always been going on behind closed doors, and he couldn't hold back any more. In a series of emails to American anti-doping bodies Landis exposed the doping regime that had fuelled the US Postal and latterly Discovery Channel teams. Details were leaked to the press and the Armstrong fortress began to crumble. He still had his supporters, but they were thinning out. A federal investigation in to fraud was opened but then inexplicably dropped over one year later. The United States Anti-Doping Agency picked up where they left off with their own investigation in which they interviewed many of Armstrong's former American team mates. All of whom confirmed Landis's story.


12. Stripped of all his wins and banned for life
In August 2012 USADA stripped Armstrong of all seven Tour de France titles and banned him from competing in any (Olympic) sport for life. they also banned several of his team doctors and trainers, and Johan Bruyneel from working in cycling. In it's reasoned decision, released later, it outlined what it called the most sophisticated doping programme in sporting history. The UCI rubber stamped the decision, saying "Lance Armstrong has no place in cycling." His long term sponsors slowly deserted him, including Trek bikes, Nike, Oakley (who had made Armstrong an employee of the company in 1996 so he could get his cancer treatment paid for as his new French team Cofidis had no health insurance included) and Giro. He then had to step down as chairman of Livestrong, and weeks later severe all ties with them as they say their donations drop away.
13. Goes on the Oprah Winfrey show
After months in limbo, with no work, and no sport to compete in, Armstrong breaks his silence. Just how significant this is remains to be seen.
Thank you for reading 10 articles this month* Join now for unlimited access
Enjoy your first month for just £1 / $1 / €1
*Read 5 free articles per month without a subscription
Join now for unlimited access
Try first month for just £1 / $1 / €1
Editor of Cycling Weekly magazine, Simon has been working at the title since 2001. He fell in love with cycling 1989 when watching the Tour de France on Channel 4, started racing in 1995 and in 2000 he spent one season racing in Belgium. During his time at CW (and Cycle Sport magazine) he has written product reviews, fitness features, pro interviews, race coverage and news. He has covered the Tour de France more times than he can remember along with two Olympic Games and many other international and UK domestic races. He became the 130-year-old magazine's 13th editor in 2015.