Alessandro Ballan in court, facing two-year doping ban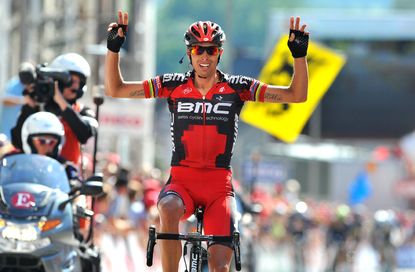 BMC Racing's Alessandro Ballan heads to court today at 12:00 in Rome and faces a two-year doping ban.
In November, the Italian Olympic Committee (CONI) recommended the ban based on the Mantova investigation centred on his former team, Lampre.
The 2008 World Champion, according to investigation documents, transfused his blood at the Montichiari clinic of Fiorenzo Egeo Bonazzi in 2009. Bonazzi faces a seven-year ban.
Thomas in Down Under for Porte, classics later
Geraint Thomas races the Tour Down Under next week in Australia to support Sky team-mate Richie Porte. The race also serves to put in shape for the spring classics.
"I'd love to go and maybe get a stage win, or be up there again on GC," Thomas said in a press release. "For me there isn't quite as much emphasis on it this year. Especially with Richie going, that gives us another string to our bow... I've got other goals on the horizon just after."
Thomas has his mind on the classics, like the Tour of Flanders in April. Last year, he crashed in the key moments of Milan-San Remo and Flanders.
"Everyone saw it as a failure last year. It was I suppose if you look at the results. Personally I felt like I was in great form when it came to the Classics. I had a real bad bit of luck and it didn't happen for me," added Thomas.
"It's not like any of us here are outstanding favourites. You need a bit of luck and a good run, then at the end you see what you've got. Any sort of bad luck along the way and it's curtains really."
Cancellara crashes in training
Fabian Cancellara (Trek Factory Racing) crashed in training over the weekend at home in Bern, Switzerland, according to La Gazzetta dello Sport newspaper. He suffered scrapes and bruises on his left side but continued riding.
This week, he travelled to the team's training camp in Mallorca, Spain. He plans to win the Tour of Flanders and Paris-Roubaix again this year and break the hour record.
Bergamo and Lombardy ask for 2017 Tour de France
Felice Gimondi and representatives from Bergamo and the Lombardy region travelled to Paris this week to ask for the Tour de France. They want to host the start and stages of the French Grand Tour.
"We've been developing a good relationship with the Tour's management and they've never closed the door on our request," Gimondi said in a press release, according to Italian website Tutto Bici. "We haven't been able to host it yet because organiser ASO has gone to other places far away from our region."
The Tour de France has never begun in Italy in its 19 foreign starts. This year, it begins in Yorkshire.
Gimondi met with Tour Director Christian Prudhomme. According to the press release, the local committee wants the Tour in 2015 but it conflicts with the Milan Expo. They are pushing for 2017. After they receive the green light from the region, they will approach ASO with their offer.
Thank you for reading 20 articles this month* Join now for unlimited access
Enjoy your first month for just £1 / $1 / €1
*Read 5 free articles per month without a subscription
Join now for unlimited access
Try first month for just £1 / $1 / €1