Alex Dowsett completes his debut Giro d'Italia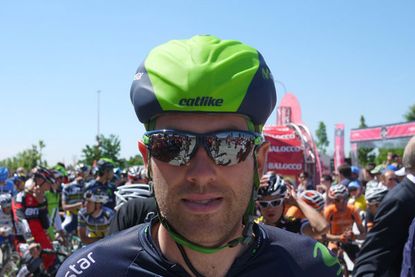 Alex Dowsett's first Grand Tour, the Giro d'Italia, was a success. He not only finished, but won a stage and gained a new perspective on cycling.
The three-week raced ended in Brescia on Sunday with a 206-kilometre stage.
"I spoke to my dad ahead of the last stage. He asked what was going on. I said, 'I only have a flat 200-kilometre stage,'" Dowsett told Cycling Weekly. "The fact that I used 'only' and '200 kilometres' in the same sentence shows my new perspective on what's a big day and what isn't."
The 24-year-old transferred from Sky to Spain's Movistar team over the winter. He not only completed his first Grand Tour, but also beat his former team-mate and Olympic Champion, Bradley Wiggins in the the 54.8-kilometre time trial.
Dowsett explained the three-week Giro d'Italia was more than he had imagined.
"I had the white Jersey [of the best young rider] on the third day. Even though I wasn't strictly in it, I thought it doesn't get better than this. To get a stage win... I never even considered it," he continued.
"I have team Movistar to thanks for that. They had a lot of faith in me, more faith than I possibly had in myself. You don't expect to beat Wiggins, not in a time trial. I know he had a lot of problems, but still he's a phenomenal bike rider. The team trusted me and had a lot of faith in me for the TT. I'm glad I could I deliver for them as well."
The Giro d'Italia unfolded in the worst weather in recent history. Snow forced the modification of two stages, and the complete cancellation of another.
Dowsett arrived at 2300 metres on Tre Cime di Lavaredo looking like a zombie. He and the peloton suffered up the climb in snowfall and temperatures of -1°C.
He brushed off the experience as he had the snow on his shoulders and helmet.
"I'm English," he said, "So it's a lot less worse for me."
Dowsett admitted that he needs to work on his climbing. It may come with experience. In his Spanish team, he was the only Grand Tour debutant. His team-mate Beñat Intxausti, for example, has ridden multiple editions of the Giro, Tour de France and Vuelta a España.
"There's work to be done. The figures Wiggins punches out and the figures I punch out... My time up the last climb in that time trial shows there are some big weaknesses there as well. I just need to take something out of it and come back with better climbing legs next time."
He has gained faith in himself, however.
"I can now safely say I want to go to races like the Eneco Tour, and try to win them," Dowsett added. "I know the team will give me faith and support."
Read Cycling Weekly magazine on the day of release where ever you are in the world International digital edition, UK digital edition. And if you like us, rate us!
Thank you for reading 20 articles this month* Join now for unlimited access
Enjoy your first month for just £1 / $1 / €1
*Read 5 free articles per month without a subscription
Join now for unlimited access
Try first month for just £1 / $1 / €1