Annie Last wins World Cup eliminator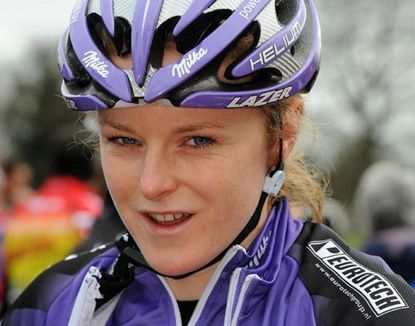 British rider Annie Last won the first round of the new eliminator race at the UCI Mountain Bike World Cup in Houffalize, Belgium, on Friday.
Last (Milka Brentjens) led from the gun to beat her three opponents in the final and take the inaugural World Cup event in the new discipline.
Fellow Brit Tracy Moseley placed seventh in an event that is in stark contrast to her more usual downhill racing, for which she won the world title in 2010. Moseley was the third fastest rider in the qualifiers.
Britain's Kenta Gallagher finished in sixth place in the men's eliminator, won by American Brian Lopes.
Twenty-one year old Last went on to contest the elite women's cross-country event on Sunday, finishing in 20th spot. Fellow Brit Liam Killeen finished in 29th place in the men's cross-country event.
The new eliminator race features four riders racing against each other on a tight and technical cross-country circuit. The two top finishers in each race move into the next round. Two further events in the 2012 eliminator series take place in the Czech Republic on May 11 and in Italy on May 18.
Last is hoping to represent Britain in the London 2012 Olympic Games mountain bike cross-country, and is still in the process of securing qualification points.
Related links
London 2012 Olympic Games news section
London 2012 mountain bike course 'toughened up'
Thank you for reading 5 articles this month* Join now for unlimited access
Enjoy your first month for just £1 / $1 / €1
*Read 5 free articles per month without a subscription
Join now for unlimited access
Try first month for just £1 / $1 / €1