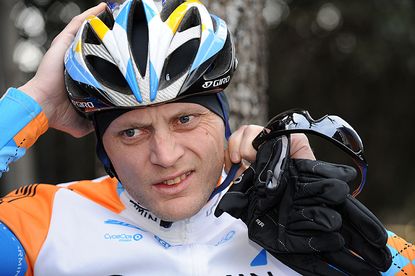 Magnus Backstedt will return to racing in 2011 heading up a new team that will carry the name of the charity for which he is vice-president. Team UK Youth will ride in the Premier Calendar series in the UK and Backstedt says, "we'll try to get in the Tour Series too".
The Swedish winner of the 2004 Paris-Roubaix became involved with UK Youth during the summer, when he helped its president, the ex-Formula 1 world champion Nigel Mansell and his sons Greg and Leo prepare for and complete a round-Britain bike ride to raise funds and the charity's profile. Now he has taken on a bigger role with the charity, which sees cycling as an excellent vehicle to spread the word about their work.
"No money will come from UK Youth, instead the team's costs will be underwritten by the president and some sponsors. However, the charity is very enthusiastic about cycling as a vehicle to get their message across. It ticks so many boxes, and the sport represents reaping rewards for hard work, which is a key message in UK Youth. Basically they work with young people who for one reason or another have made some wrong choices, got off to a bad start in life, but want to get back on track," Backstedt told us.
The team's final line up isn't complete yet, but fellow Swedes Freddy Johansson and Niklaas Gustavsson are two other experienced riders in the team. A surprise, though, is that it also includes Greg and Leo Mansell. Up until now they have been racing drivers who used cycling as part of their training. They have competed in bike races before, but now they intend to dip their toes into top-end British racing.
Backstedt is really enthusiastic. "I stopped because I'd had so many accidents and illnesses in a short space of time that my body wasn't taking it any more. I was still enjoying racing. Now though I've recovered physically, and I'm mentally fresh and looking forward to racing again. On top of that I'm really motivated by what UK Youth do. It's something I feel very strongly about," he told us.
Related links
Magnus Backstedt: Rier Profile
Feburary 2009: Magnus Backstedt announces retirement
Thank you for reading 20 articles this month* Join now for unlimited access
Enjoy your first month for just £1 / $1 / €1
*Read 5 free articles per month without a subscription
Join now for unlimited access
Try first month for just £1 / $1 / €1