Bad weather didn't stop everyone over Christmas ...
The festive period has long been celebrated as a great time to get out on your bike. If you took that to the extreme and got out on Christmas Day, you were in good company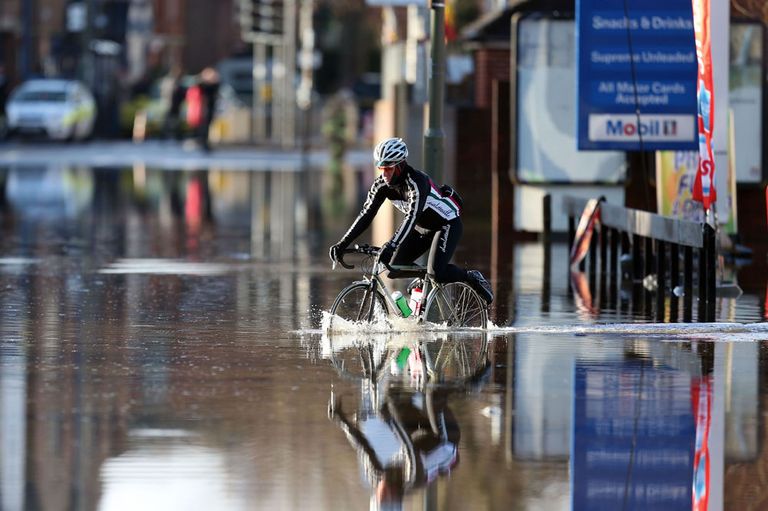 "I did two-and-a-half hours - with most of that at tempo - before breakfast," said Madison-Genesis rider Pete Hawkins. "I got the calorie balance in deficit so I could top it up nicely at dinner!"
Russell Downing, 2013 BBAR winner Adam Topham, KTM's well-known high-miler Dave Clarke and Velosure-Giordana's Rob Partridge also got on their bikes, although the latter stayed indoors for it. "It was only a short ride on the rollers to make sure I didn't feel guilty," Partridge said.
However, highly rated British youngster Tao Geoghegan-Hart wins our imaginary prize for longest Christmas Day ride, having completed three hours in the saddle around the Essex lanes. Some clubs hold Boxing Day time trials, but National 50 champion Matt Bottrill opted for his own private one.
"I love going out on Boxing Day. This year, I went out on my time trial bike for 30 minutes and rode around at an average of 25mph," he said.
Adverse weather conditions were shrugged off by some pros:"I think I rode around 420 miles over the Christmas period. I didn't get blown away, but I had a few scary moments," admitted British circuit race champion Hannah Barnes.
Partridge was not quite so lucky. "I've been caught in torrential rain a couple of times - the type of weather which means you have a warm shower when you get home," he said.
National 24 champion Stuart Birnie (Willesden CC) was in a similar boat - although an ark would have been more appropriate. "I scored a lovely cold just before the Rapha Festive 500 [online distance challenge] started, so I only just made it over the 500-kilometre mark...on New Year's Eve...in heavy rain."
Former double junior world champ Lucy Garner experienced an incendiary welcome on her return to her base in the Netherlands. "There were a lot of parents and children using fireworks while I was out riding," said Garner. "The Dutch go mad for them at New Year." She returned from the ride unscathed.
Unfortunately, some have not been so lucky. Hill-climb specialist Matt Clinton succumbed to illness. "I had a week off the bike, so I spent time doing DIY. The home looks good at least."
One House not looking so good is Rapha-Condor-JLT rider Kristian: the experienced rider broke his collarbone after being knocked off his bike by a deer while travelling at nearly 40mph in Austin, Texas on December 20.
"I was just starting a descent on a wide, straight road. The next thing I knew was that something T-boned me. I didn't see it at all. It was only when I saw it running away I realised what it was."
This article was first published in the January 9 issue of Cycling Weekly. Read Cycling Weekly magazine on the day of release where ever you are in the world International digital edition, UK digital edition. And if you like us, rate us!