Ben Swift: Famous Last Words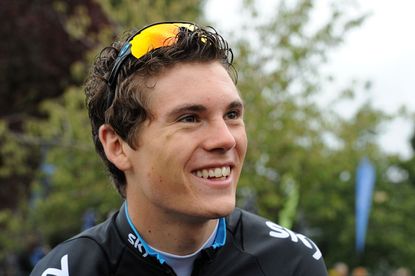 Yorkshireman and Sky pro Ben 'Swifty' Swift talks Tuscany, Malcolm Elliott, flat-sharing and not playing the saxophone
An American journalist once asked me how I got the name Swifty. It's a good name to have for a cyclist, especially when you've just got a good result, and I don't get bored of the puns, although there is always a lot of it. I still find it pretty funny.
Coming from Sheffield, I've got [11-time BBAR winner] Kevin Dawson and Malcolm Elliott local to me as well as the Downings, who live in the next door village, so it's a pretty good place to be from for cycling.
I've been training with those guys since I was a junior. It was pretty daunting at first. I remember riding around with Malcolm Elliott when I first started and having so much respect for him with everything that he's achieved in his career. He used to completely kick my head off on training runs.
I trained with the Downings when I was a kid too. We're really good mates and we still train together all the time. I'm going out with Dean tomorrow, in fact.
I love Yorkshire. I'd say I'm a proud Yorkshireman and it's always good to have a bit of banter with the lads from Lancashire. There's a big difference between where I come from in Yorkshire and being on the continent, but I've been racing on the continent since I was young, so I'm really at home abroad.
I've had an apartment in Tuscany since 2006, where I now live with Pete Kennaugh. Our place is in a town about 15km from Florence. We live out there in the racing season and head back home for the off-season.
I spent three years out there with the Academy and just decided to stay. I used to live with Geraint Thomas, but he moved away and Pete needed a place at the same time so we moved in together. I've thought about moving somewhere else, but I'm a bit of a local now. They love their cycling out there in Italy. Whenever we stop off at a cafe, people always stop and admire your bike and have a chat.
I've got a saxophone. It was a gift and I've tried playing it a couple of times, but I found it really hard. It's harder than riding a bike for me. It's on my to-do list. It's in Tuscany at the moment and it's a bit more of an ornament, but I'll learn it one day. I thought about getting a teacher, but I'd prefer just to play it for fun.
This article originally appeared in the August 11 2011 issue of Cycling Weekly magazine
Related links
Ben Swift: Rider Profile
Thank you for reading 20 articles this month* Join now for unlimited access
Enjoy your first month for just £1 / $1 / €1
*Read 5 free articles per month without a subscription
Join now for unlimited access
Try first month for just £1 / $1 / €1