Bianchi set to open cycle cafe in London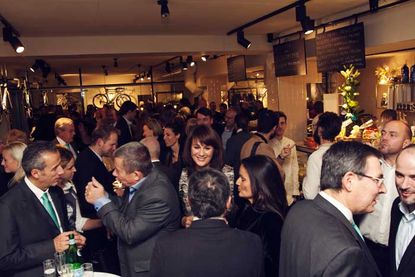 Thought that legendary Italian manufacturer Bianchi only made celeste bikes?
Well, think again. The company most widely associated with double Tour de France winner Fausto Coppi, has diversified into the espresso market by launching its first cycle café in Stockholm, Sweden.
And Bianchi loving Brits are sure to welcome plans to bring the concept store to London.
Situated in the fashionable Stockholm district of Norrlandsgatan, Café&Cycles opens its doors to the public this Saturday, in the year of Bianchi's 125th anniversary.
Along with cappuccinos and paninis, some of the most significant bikes in the Bianchi range will be on display surrounded by photos of those who wrote the pages of famous company's cycling history.
Bianchi chief executive Bob Ippolito explained the reason behind the cafe opening: "Cycling is lifestyle but food is lifestyle too. That's why it's a winning mix to combine our high quality bikes with a special Italian menu to offer customers a fantastic experience into a warm and inspiring atmosphere."
Over the last few years, several bike themed cafes including Look Mum No Hands and the Rapha Cycle Club have popped up to capitalise on the growing popularity of cycling in the UK capital.
Most offer riders the opportunity to get their bikes repaired while enjoying a coffee and watching the best continental race action.
While the plans for a London Bianchi store are in their infancy, company owner Salvatore Grimaldi added that his ambition was to expand the concept around the globe.
"Of course we have to understand the reaction from the public but our aim is to open other stores in different countries starting from Milan, then Tokyo, New York and London. It is an ambitious project but I'm ready to go for that," he said.
Bianchi owner Salvatore Grimaldi at the cafe opening in Stockholm


The Bianchi team celebrate the new concept store


Thank you for reading 20 articles this month* Join now for unlimited access
Enjoy your first month for just £1 / $1 / €1
*Read 5 free articles per month without a subscription
Join now for unlimited access
Try first month for just £1 / $1 / €1