Bobridge breaks Boardman's pursuit record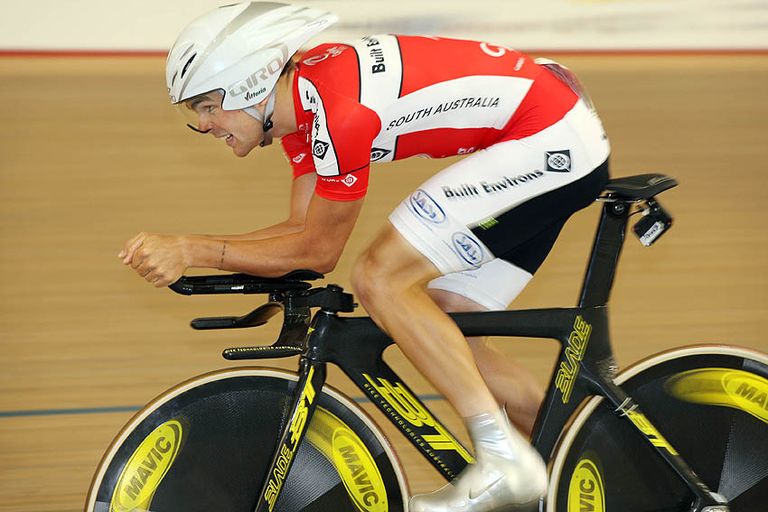 Australian Jack Bobridge has broken Chris Boardman's 15-year-old individual pursuit record during the Australian track national championships.
Boardman's former world record of four minutes 11.114 seconds over 4,000 metres set in 1996 using the now banned aerodynamic 'superman' riding position was bettered by 21-year-old Bobridge's four minutes and 10.534 seconds.
Prior to Bobridge's ride, Boardman's record was thought to have been 'unbreakable' by a rider adopting a normal, less aerodynamic riding position. The former world record holder was quick to praise Bobridge's achievement. "Wow, Jack Bobridge broke my 15yr old world record, 4-10.5 that is an amazing time, congratulations to him," Boardman said via microblogging site Twitter.
That it was Bobridge that broke Boardman's record should come as no surprise. Prior to today's blistering ride at the Dunc Gray veldrome in Sydney, Bobridge already held the record for the fastest individual pursuit time using the normal position, and the third fastest of all time behind Boardman's two 'superman' times. He won the IP at the Commonwealth Games in Delhi last year, and won the Australian road race championships in January.
In addition to Bobridge's new world record, Rohan Dennis set another fast time in qualification of 4-13.399 - now the fourth fastest IP time in history.
In October 2009, Britain's Geraint Thomas came close to the Bobridge and Boardman's times with a 4-15.015 during the Manchester round of the 2010/11 Track World Cup. Before Thomas and Bobridge set faster times, Bradley Wiggins held the top time for a rider in the non-superman position. He clocked 4-15.031 during qualification for the Olympic Games IP in Beijing, 2008.
Some of the prestige of the individual pusuit has been lost since the announcement that it has been dropped from the Olympic Games track disciplines from 2012. In line with Olympic events, the IP has also been dropped from the official schedule for UCI track world cup events.
However, Bobridge is a key part of Australia's team pursuit squad, an event which is firmly still part of the Olympic schedule. Both Wiggins and Thomas make a return to the British team pursuit squad in just over two weeks at the Manchester round of the track world cup. The last time that they rode together was at the Beijing Olympics, during which they helped to set a new team pursuit world record.
Could the team pursuit world record now tumble in Manchester this month?
FASTEST 4,000M INDIVIDUAL PURSUIT TIMES
4-10.534 World record
Jack Bobridge (Australia)
Sydney, Australian National Track Championships 2011
4-11.114*
Chris Boardman (Great Britain)
Manchester, World Championships final 1996
4-13.353*
Chris Boardman (Great Britain)
Manchester, World Championships 1996
4-13.399
Rohan Dennis (Australia)
Sydney, Australian National Track Championships 2011
4-14-427
Jack Bobridge (Australia)
Adelaide, Australian National Track Championships qualifying 2010
4-14.845
Jack Bobridge (Australia) Commonwealth Games record
Delhi, Commonwealth Games qualifying, Oct 5, 2010
4-15.015
Geraint Thomas (Great Britain)
Manchester, World Cup, October 2009
4-15.031
Bradley Wiggins (Great Britain)
Beijing, Olympic Games qualifying, August 2008
4-15.160
Taylor Phinney (USA)
Pruszkow, Poland, World Championships, March 2009
4-15.165
Bradley Wiggins (Great Britain)
Athens, Olympic Games qualifying, August 2004
4-15.223
Taylor Phinney (USA)
Copenhagen, World Cup, February 2009
* Set using the superman position, now banned
Related links
Strongest ever British track squad named for Manchester World Cup
Individual pursuit removed from Olympic Games