Bournville ride: Chocolate, chips & cake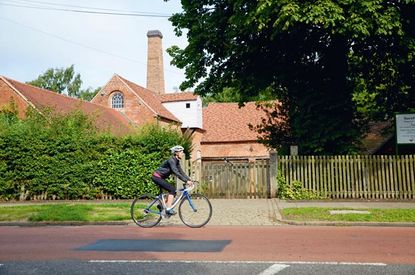 Get The Leadout Newsletter
The latest race content, interviews, features, reviews and expert buying guides, direct to your inbox!
Thank you for signing up to The Pick. You will receive a verification email shortly.
There was a problem. Please refresh the page and try again.
Words Hannah Holden | Photos Ben Hanley
Having spent many weekends here, visiting family and friends, something inspired me to explore by bike this area that I had not up until now, taken much interest in. A new bakery opened in Stirchley last year, gaining a lot of interest both here and across the country. In 2009, Tom Baker started the bakery at the home he shares with his wife, and began to share his food skills with others, eventually forming a cookery school.
Now the bakery, aptly named Loaf, has become a cooperative community supported bakery in Stirchley, helping towards restoration of the high street. As well as running a successful cookery school, it also holds regular dining events.
I was impressed with the various cycling routes south of Birmingham and the beautiful canals hidden away from the busy roads. The route is fantastic if you want a bit of everything, because after moseying around within urban areas it takes you out into the countryside with lots of open space.
Our ride starts in Bournville, a model village which originated from the Cadbury family business. It is a lovely green area which is a result of George Cadbury's intention that one-tenth of the village should be "laid out and used as parks, recreation grounds and open space". Due to the expansion of their business, George and his brother Richard moved their father's factory from central Birmingham to this cleaner and healthier area. Bournville village now consists of a village green, schools and has become a popular residential area of Birmingham.
After having a quick browse around Cadbury World (mostly a destination for family days out and a tour for chocolate lovers), we cycled past the village green with a view of Bournville Rest House which was built to celebrate the Silver Wedding Anniversary of George and Elizabeth Cadbury. This would be a nice place to sit and relax, or when it is open, have a look inside and read information about Bournville and the Cadbury family.
We cycled towards Stirchley crossing Bournville railway bridge. I insisted we stop at Loaf Bakery to collect some pastries. Loaf is a relatively new business in Stirchley, launched in 2012 with an aim "To promote real food and healthy living in Birmingham, and build community through food". We bought some pain au chocolat to take with us for later.
In Stirchley, we joined the Rea Valley Route, part of the National Cycle Network 5. The route skirts the River Rea and takes us to Cannon Hill Park, which is a large green space containing Mac Birmingham (formerly named Midlands Arts Centre). This is an impressive modern building which reopened in 2010 after a huge renovation and is our favourite venue for going to watch a film.
Being the middle of a hot summer's day, the park was full of people and there is a real buzz about the place. This would be an ideal stop for a picnic or an ice cream if it's hot.
Tolkien territory
Coming out of Cannon Hill Park, opposite the Edgebaston Cricket Stadium, we headed towards Moseley, a bohemian area with lots of cafes, restaurants, boutiques and independent shops. An arts and culture festival is held here every summer as well as an annual folk festival and a monthly Farmers' Market.
Passing through Moseley took us along the busiest part of the ride. The road soon quietened as we joined Wake Green Road, with Moseley Bog on our right. Moseley Bog was once a secondary reservoir to feed the millpond of Sarehole Mill and is now a beautiful nature reserve.
The Bog was the local playground for a young JRR Tolkien and provided the inspiration for the ancient woodlands in The Hobbit and The Lord of the Rings. We left Wake Green Road via a quiet country lane, Green Road, which took us on a very picturesque meander to a ford at the bottom of the hill. Avoiding the water we took the small walkway bridge.
We then cycled towards Sarehole Mill, which is one of two working water mills in Birmingham and has an interesting little museum showcasing the history of the mill and the local area. As a child, Tolkien lived just 300 yards from the mill and he went on to use it (it inspired the mill of Hobbiton) and its surrounding area as inspiration for his novels.
It is worth a visit if you have the time. If you are hungry I would advise a stop at Hungry Hobbit, a little cafe serving huge breakfasts, sandwiches and snacks.
Opposite Sarehole Mill, we entered the Shire Country Park, a lovely shady green corridor, with some rough terrain and narrow sections. It is probably more suited to mountain bikes, although I had no problem on my road bike with it being a dry summer day. In fact it was one of the hottest days of the year so far and we appreciated the coolness from the tall trees.
The path took us along the River Cole which we got a good glimpse of as the path becomes more open. After a road crossing, the path enters an area called the Dingles, which contains sections of grass track. From there we used a few urban roads to get to the Stratford Upon Avon Canal, descending a steep ramp from a bridge to join the towpath.
Passing several narrow boats, walkers and runners we cycled slowly along this path for two miles with a couple of slight inclines. The path steers away from the canal at one point and there is a steep gravelly hill. It was a surprise to us all to find such tranquil and picturesque routes hidden away from a busy city.
Away from the canal we cycled out of the city and onto the country lanes of Worcestershire. After a gradual descent down Gay Hill Lane we reached our first hill climb surrounded by open countryside and farms. Heading south the lanes levelled out and we enjoyed cruising and taking in the fresh air. We passed a few friendly cyclists who were enjoying the quiet roads.
When we reached the southerly part of the route north of Redditch, we stopped at the first pub, The Village Inn, to quench our thirsts with welcoming refreshments along with a generous plate of chips.
Back on our bikes, we made our way onto Icknield Street, a very long and straight Roman road, now lined with gated mansions. We hesitated at the Coach and Horses pub but decided it was too soon for another pub stop. Noting that it had its own brewery, we made a mental note to come back on our next ride.
Puncture juncture
We carried on along Icknield Street and rode on and up a couple more hills, including what would be the steepest climb of the day, before reaching the Peacock Inn for a pub lunch. After basking in the sun a while in the pub garden, we realised how hot it actually felt without the cooling accompaniment of the wind as we cycled. We were reluctant to leave here and could easily have stayed longer soaking up the rays.
However, realising the time and with a yoga class to get back for we decided to leave. Just as we were about to set off Ben had a very loud puncture causing lots of heads to turn. My friend Foz and I looked on as he began fixing his puncture while engaging in conversation with a couple on the table next to us. They thanked him for his puncture repair 'master class' and with not far to go, we continued cycling on Icknield Street back toward Stirchley.
The last leg of our ride took us on yet another towpath, this time along Worcester and Birmingham Canal. We came out at Bournville station and swiftly followed the same way back to Cadbury World in Bournville Village — and enjoyed a chocolate bar to celebrate our great day out! All being keen yogis we ended our day stretching out our tired limbs at a yoga class at The Iyengar Yoga Institute of Birmingham.
On reflection I would allow a full day for this ride if you want to take advantage of the many things to see and do. Alternatively the route could be divided into two parts and ridden on separate days, to allow extra time to explore sites such as Sarehole Mill and Moseley Bog.
STOP!
Pubs and grub
Pubs
The Village Inn, Holt Hill, Redditch, Worcestershire, B98 9AT, 01527 67227,
Country pub with a beer garden, laid back atmosphere and reasonably priced food.
The Coach and Horses, Weatheroak, Alvechurch, B48 7EA, 01564 823386, www.coachandhorsesinn.co.uk
Fantastic pub with a restaurant, garden and its own brewery.
Peacock Inn, Icknield Street, King's Norton, Birmingham, B38 0EH, 01564 823232
A Chef and Brewer pub with a garden.
Cafe
Hungry Hobbit, Wake Green Road, Moseley
A good stop for a decent sized breakfast.
Shop and bakery
Stirchley Stores, 1421 Pershore Road, Stirchley, B30 2JL, www.loafonline.co.uk, open Tuesday to Friday 2pm to 7pm, Saturday 8.15am to 2pm
A food cooperative with its own 'Loaf' bakery. Grab some sweet and savoury treats for your picnic or snack.
Bike shop
Birmingham Bike Foundry, 1539 Pershore Road, Stirchley, B30 2JH, 0121 459 7276,
Road book
From Bournville Village, turn left onto Linden Road and left onto Bournville Lane. Take a right then left onto Mary Vale Road. Turn right when you get to Pershore Road. Take the first left and join the Rea Valley Route (National Cycle Network 5). At the end of Cannon Hill Park, turn right onto Edgbaston Road (B4217). Follow the road through Moseley and then onto Wake Green Road. From Wake Green Road, take a left along Green Road, which will take you through a ford (with a bridge). Turn right onto Sarehole Road and at the roundabout, right onto Cole Bank Road. Directly opposite Sarehole Mill, follow the green corridor along River Cole. This is more suited to mountain bikes in the winter. You will come out on Robin Hood Lane where you carry on straight ahead along Coleside Avenue before rejoining the green corridor.
You will come out on Trittford Road. Turn left and head straight over the roundabout along Priory Road. Almost immediately turn right onto Highfield Road then right again onto Glastonbury Road. Turn right onto Pendeen Road then left onto Yardley Wood Road. At the bridge, you will turn right to join the Stratford Upon Avon Canal towpath. Follow the towpath for a couple of miles, coming out on Lifford Lane. Turn left and at the second roundabout you will need to dismount to join Walkers Heath Road. Turn left onto Gay Hill Lane and after two miles turn right onto Chapel Lane. Turn right onto Hill Lane and at the crossroads turn left onto Watery Lane. Take the first right onto Lilley Green Road, left onto Billesley Lane then immediately right onto Seafield Lane.
At the next crossroads turn right onto Brockhill Lane and follow the road round to Carpenters Hill. At the T-junction turn right onto Beoley Lane. At the crossroads turn right onto Icknield Street (on a number of occasions you will need to turn left and immediately right to stay on Icknield Street). After about five miles, follow the road onto Primrose Hill and you will shortly reach a canal. Turn right to enter the towpath and follow the Worcester and Birmingham Canal until you get to Bournville station. Turn left on Mary Vale Road, right onto Franklin Way, left onto Bournville Lane then right on Linden Road back to Bournville Village.
Thank you for reading 20 articles this month* Join now for unlimited access
Enjoy your first month for just £1 / $1 / €1
*Read 5 free articles per month without a subscription
Join now for unlimited access
Try first month for just £1 / $1 / €1
Get The Leadout Newsletter
The latest race content, interviews, features, reviews and expert buying guides, direct to your inbox!