Brailsford: "my performance wasn't good enough"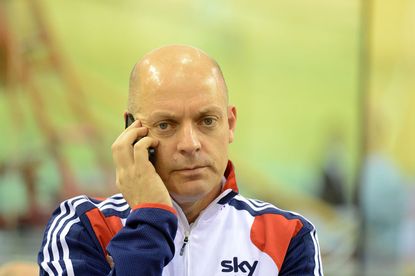 Team Sky principal Sir David Brailsford has blamed himself for Great Britain's ignominious performance in the men's World Championship road race in September, where not a single British rider finished the race.
Brailsford admitted to Cycling Weekly that he'd been distracted by "big issues" at the time.
Team GB had targeted the hilly race with Tour de France winner Chris Froome. With two Tour winners and a previous world champion, the British team were expected to perform far better than they actually did.
"It wasn't a lack of commitment," said Brailsford. "Ultimately, it was a challenging time, and there were some pretty big issues to deal with, which was a real distraction.
"I wasn't fully focused on the job in hand because of the situations I had to deal with. I have to take responsibility for the whole thing. My performance wasn't good enough."
Brailsford refused to confirm what the issues affecting the team were. But during that time, there were two headaches affecting his concentration: the news that Team Sky rider Jonathan Tiernan-Locke had been asked to explain allegedly anomalous blood values from 2012, and the ongoing soap opera between his two star riders Bradley Wiggins and Froome.
At the time of interview (published by Cycling Weekly on December 5), Brailsford said the team has yet to receive official information on Tiernan-Locke, as the Athlete Passport Management Unit is still considering the case. "It's a confidential process between Jonathan and the UCI.
"We have to assume he is innocent, until we have information to the contrary. But he'll be at our training camp this week, and he is a contracted rider for 2014."
However, on December 17, the UCI requested that disciplinary proceedings be opened for Tiernan-Locke and he subsequently will not take part in any Sky activity, including racing and attending training camps.
Brailsford was more circumspect about the Wiggins-Froome spat, which has rumbled quietly since Wiggins questioned Froome's commitment to him during the 2012 Tour. David Walsh's book Inside Team Sky recently alleged Wiggins withheld bonuses owed to Froome for that 2012 Tour win. The two men allegedly refused to even shake hands at the Worlds.
Brailsford admitted the situation was difficult to manage.
"I manage it from the point of view that Bradley Wiggins is Bradley Wiggins, and Chris Froome is Chris Froome, both deserve respect. I treat them as responsible professionals and speak to them as individuals. Sometimes these things happen, you can't control the timing."
This article was first published in the December 5 issue of Cycling Weekly. Read Cycling Weekly magazine on the day of release where ever you are in the world International digital edition (opens in new tab), UK digital edition (opens in new tab). And if you like us, rate us!
Thank you for reading 5 articles this month* Join now for unlimited access
Enjoy your first month for just £1 / $1 / €1
*Read 5 free articles per month without a subscription
Join now for unlimited access
Try first month for just £1 / $1 / €1
Edward Pickering is a writer and journalist, editor of Pro Cycling and previous deputy editor of Cycle Sport. As well as contributing to Cycling Weekly, he has also written for the likes of the New York Times. His book, The Race Against Time, saw him shortlisted for Best New Writer at the British Sports Book Awards. A self-confessed 'fair weather cyclist', Pickering also enjoys running.