Britain tops women's UCI cyclo-cross ranking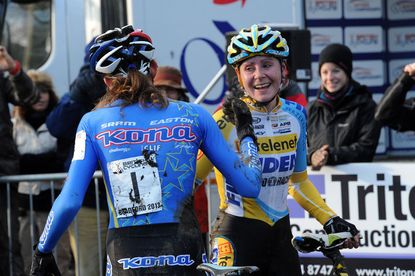 Great Britain tops the Union Cycliste Internationale (UCI) women's cyclo-cross rankings after a collectively strong season from the country's riders.
Helen Wyman, Nikki Harris and Gabriella Day all contributed to Britain's significant points tally after the 2012/13 season, beating traditional 'cross heartland nations, Netherlands and Belgium.
Wyman sits in second place in the rider rankings behind leader Katherine Compton (USA), but ahead of Netherlands duo Sanne Van Passen and world champion Marianne Vos. British national champion Harris is sixth in the ranking, with Day in 13th.
The UCI ranking tallies up the points earned by the top three riders of each nation - so, for example, 35th placed Annie Last's points were not counted.
World champion Sven Nys of Belgium tops the men's 2012/13 cyclo-cross ranking. With compatriots Niels Albert and Kevin Pauwels in second and third, it's no surprise that Belgium tops the men's ranking-by-nation ahead of the Netherlands and Czech Republic.
Women's 2012/13 UCI Cyclo-Cross ranking by nation
1. Great Britain 4169 points
2. Netherlands 4075 points
3. USA 3719 points
4. Belgium 2957 points
5. France 2762 points
Related links
Sven Nys and Marianne Vos take cyclo-cross world titles
Thank you for reading 5 articles this month* Join now for unlimited access
Enjoy your first month for just £1 / $1 / €1
*Read 5 free articles per month without a subscription
Join now for unlimited access
Try first month for just £1 / $1 / €1