British U23s and Juniors start Euro Track Champs with medals aplenty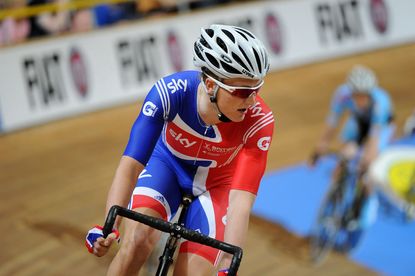 Britain's U23 and Junior track riders have picked up a sizeable medal haul in the OIympic disciplines of the first two days at the European Track Championships.
The championships' first two days have seen British riders pick up five gold medals and four silvers, with relative domination in the pursuit disciplines particularly impressive.
Four golds in pursuit events
Britain's young pursuiters have won six medals in pursuit disciplines in total, including four golds - an impressive tally given they medalled in all but two of the championship's eight pusuit events.
Britain's women's U23 team pusuiters decimated the rest of the field to take gold by a sizeable margin on Tuesday. They caught the Polish quartet in the final and set a time that was only three seconds outside the current world record in the qualifying round.
That team included Dani King and Laura Trott, already medal-winners at senior level, and Trott picked up another gold medal in the U23 women's individual pursuit too. Hannah Mayho narrowly missed out on bronze in the same event.
Yesterday the men's U23 pursuit team - Sam Harrison, Josh Papworth, Luke Rowe and Simon Yates - missed out on gold to Russia by three seconds.
The men's junior pursuiters enjoyed a successful individual pursuit session yesterday too, picking up both gold and silver through Jon Dibben and Owain Doull respectively. Their team pursuit quartet had already won gold on Tuesday, beating Russia by two seconds in the final.
Elinor Barker also won silver in the Junior women's individual pursuit on the championship's first day.
James and Varnish U23 Team Sprint Champions
Becky James and Jess Varnish won the U23 women's team sprint yesterday with an impressive time of 33.912 seconds, while Victoria Williamson won silver in the Junior women's sprint.
The U23 men's team sprint trio of Callum Skinner, Pete Mitchell and Philip Hindes picked up silver too, narrowly losing out to Germany in the final.
The overall British medal-haul is impressive so far given the squad's focus on Olympic events - medals were also distributed for events such as the men's 1km time trials without British participation.
The Championships, which are being held in Anadia in Portugal, run until Sunday. Today's racing is mostly confined to points race events. Friday will see the men's and women's U23 sprint competitions and the beginning of the omnium events.
Thank you for reading 20 articles this month* Join now for unlimited access
Enjoy your first month for just £1 / $1 / €1
*Read 5 free articles per month without a subscription
Join now for unlimited access
Try first month for just £1 / $1 / €1