Cavendish acknowledges he missed dope test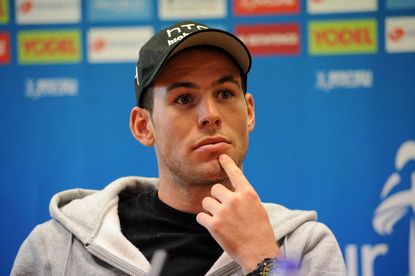 Mark Cavendish missed an out-of-competition doping control in April, according to a statement released yesterday by team Sky. Three missed controls in an 18-month period would bring competition ban, but the World Champion said this one was an "administrative error."
"I missed an out of competition test last April," Cavendish said in a press statement. "It was my mistake."
In September, his former HTC-Highroad team-mate Alex Rasmussen received a temporary suspension for missing three controls. His Danish federation acquitted him, but the Union Cycliste Internationale (UCI) has appealed the case to the Court of Arbitration for Sport (CAS).
Italian newspaper La Gazzetta dello Sport broke the news yesterday that Cavendish missed the doping control. A missed out-of-competition control normally fails to make the news, but this one involved the World Champion and fastest sprinter, and comes on the heels of other cases.
As well as Rasmussen, Olympic champion Jeannie Longo missed three controls and narrowly avoided suspension due to a technicality. Yesterday, the UCI stripped French track sprint World Champion, Gregory Bauge of his results and gold medals for the 2011 year for missing three controls.
Cyclists are required to submit their whereabouts for each there-month period into the online Anti-Doping Administrative Management System (ADAMS). They "are required to specify one hour each day (between 6 am and 11 pm) during which they can be located at a specified location for testing," according to the rules. "If they are not at the indicated location at the specified time, they expose themselves to the risk of a missed test." Cyclists may send in last minute changes via SMS message.
The UCI adopted ADAMS at the start of the 2008 season.
Cavendish explained that he was on Mount Etna at the time of the missed control, filming for the BBC and the Giro d'Italia organiser.
"It was a simple, genuine administrative error," Cavendish added. "Of course I totally understand the importance of testing in sport. I was tested by the UCI a couple of weeks before that and twice in the fortnight after, and had around 60 tests in all last year. It's part of the job and it's my job to make sure I don't miss another."
He always speaks out against doping when asked and was the first to sign the UCI's ethical charter in 2007.
Related links
Jason Kenny is crowned world sprint champ as Bauge is banned
"There is absolutely no doubt about Mark's integrity," said Sky's team principal, David Brailsford. "I am totally satisfied that he made a genuine mistake. He is tested regularly and is a powerful advocate for testing and ensuring that sport is clean."
Thank you for reading 20 articles this month* Join now for unlimited access
Enjoy your first month for just £1 / $1 / €1
*Read 5 free articles per month without a subscription
Join now for unlimited access
Try first month for just £1 / $1 / €1