Cavendish aims for winning season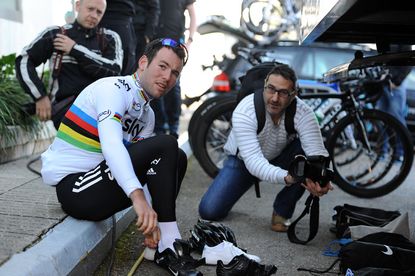 Mark Cavendish begins his season in the Tour of Qatar on Sunday, but he aims to win all year long. His said that his early goal is another Milan-San Remo win, this time in the rainbow jersey, but he will take any opportunity to win prior to the London Olympics in August.
"The last couple of seasons it's always just been about the Tour de France but now I want to repeat 2009 where I was successful throughout the whole season, and I don't want to be chasing July. I want to know exactly where I am in May and June so I can perform my best at the Tour de France and the Olympics," Cavendish said on Sky's website.
"I'd like to win Milan-San Remo again. I said when I won it last time in 2009 that I wanted to win it again in the world champion's jersey - when I've got those rainbow bands."
The Tour of Qatar is his first race back since last year's Paris-Tours on October 9.
Tirreno-Adriatico presented
The Tirreno-Adriatico next month will include two stages for Mark Cavendish and opportunities for Cadel Evans to defend his title. Organiser RCS Sport presented the week-long stage race yesterday in Livorno, Italy.
"I'd like to do well at Tirreno-Adriatico this year again, it's a race I like," Evans said two weeks ago. "I wil go into it motivated, but it's the same for me if I get a result or if it comes from one of my team-mates."
Evans (BMC) won last year over Robert Gesink (Rabobank) and Michele Scarponi (Lampre-ISD). The victory came thanks to him winning the mid-mountain stage to Macerata and defending his lead in the following day's time trial.
As with last year, the race starts with a team time trial and ends with an individual test, cutting through central Italy, from west to east. The summit finish to Prati di Tivo (1450m) is the hardest stage on paper, but two mid-mountain stages - Chieti and Offida - will shape the overall classification.
"Prati di Tivo is a true summit finish. It makes the race that much harder. I like it," said 2009 winner, Scarponi.
"When I won in 2009 there wasn't still the trident (the trophy for the winner). I really like it, I want to win it!"
Cavendish (Sky) will have two chances to test himself prior to the Milan-San Remo, which runs four days after the final stage. In 2009, he won his one and only Tirreno stage prior to winning in San Remo. In Italy, he will face Matthew Goss, Alessandro Petacchi, André Greipel, Daniele Bennati and Oscar Freire.
Alberto Contador - assuming CAS acquits him of doping - will attend to take on Evans and Scarponi
Tirreno-Adriatico 2012: Stages
Stage 1: March 7, San Vincenzo - Donoratico TTT, 16.9km
Stage 2: March 8, San Vincenzo - Indicatore (Arezzo), 230.0km
Stage 3: March 9, Indicatore (Arezzo) - Terni, 178.0km
Stage 4: March 10, Amelia - Chieti, 252.0km
Stage 5: March 11, Martinsicuro - Prati di Tivo, 196.0km
Stage 6: March 12, Offida, 181.0km
Stage 7: March 13, San Benedetto del Tronto ITT, 9.3km
Kittel returns to racing after doping accusations
Marcel Kittel (Project 1t4i) finished second yesterday in the first stage of the Etoile de Bessèges, coming on the heels of doping accusations in home country Germany.
"Thanks to my team for their work and support here in France!" he said on Twitter. "It's great to have such people around me!"
The 23-year-old won 17 times last year, including a stage in the Vuelta a España. Since January, he and around 30 other athletes have been linked with a UV light blood doping investigation in Germany.
Kittel admitted to UV treatment in a team press release two days ago. "In 2007 and 2008, Marcel visited this doctor when he was ill," read the press release. "The doctor decided to treat him with the UV-treatment."
The team also said Patrick Gretsch received treatment. It explained the treatment performed by Dr. Andreas Franke.
Franke "took a very small amount [a few cc] of blood from the body via a syringe and put this under UV lighting immediately to fight the infection in the blood. This blood was subsequently reinserted into the body."
The World Anti-Doping Agency (WADA) clarified its rules since 2007 and 2008. However, it considers "sequential withdrawal, manipulation and reintroduction of any quantity" of blood as doping.
Tour de l'Avenir
One of the most prestigious amateur stage races, the Tour de l'Avenir, will become even more of a proving ground. The Union Cycliste Internationale (UCI) announced this week that it will use it to "promote training."
"The French event," read a press release, "is an ideal environment for those learning or improving skills at cycle events, such as commissaires, regulators, Radio Tour announcers, information motorbike officials, drivers, etc."
The UCI will conduct the training, which this year will consist of two groups of 10, each involved for half of the event. This year's race runs from August 26 to September 1.
Thank you for reading 20 articles this month* Join now for unlimited access
Enjoy your first month for just £1 / $1 / €1
*Read 5 free articles per month without a subscription
Join now for unlimited access
Try first month for just £1 / $1 / €1