Charly Wegelius retires from cycling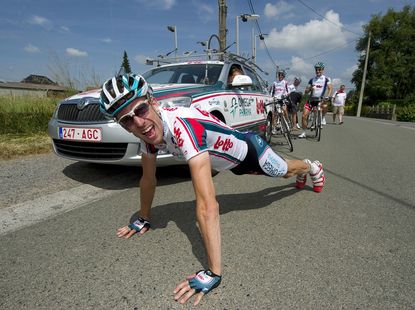 Charly Wegelius rolled across the line in Monteccio Maggiore yesterday to finish the last stage of the Giro di Padania and bring the curtain down on his cycling career.
Since starting out with Italian superteam Mapei in 2000, the Finnish-born Briton has made a name for himself as one of the hardest working domestiques in the sport.
"I made the decision to retire in February. I discussed it with my wife and left it there, I didn't want it to affect my last season," the United Healthcare rider told Cycling Weekly on Thursday.
Wegelius finished seven Giri and two Tours de France in his career, riding for the likes of Stefano Garzelli, Franco Pellizotti and Cadel Evans as a trusted helper.
"I did what I could, I've done my best," he said.
A few regrets

"I regret not winning a race, I regret what happened in Madrid," he said, referring to the 2005 world championship road race in Madrid, where he and Tom Southam appeared to ride for another team. Neither have competed for Great Britain since.
Although he failed to take a race victory, he has collected a wealth of friends from his time in the sport. "There's people who really stood by me: Mike Thompson, Aldo Sassi, Stefano Zanini and his family looked after me like a son of their own. Considering how few real friends you make in life, I think I made a lot."
Wegelius couldn't comment specifically on his plans for 2012. It's believed he will stay in the sport, possibly in a management role.


Taken off by a motorbike
His final race was made difficult when an over-zealous race moto took him off last Saturday in the one-day Giro della Romagna.
"I was just minding my own business, next thing I knew I was on the floor. I ended up under the bike. I didn't get a word in edgeways, the man was just a bit annoyed at the damage done to his bike," Wegelius said.
So he rode through the Giro di Padania battered and bruised, not helped by a protest by a mix of political groups that forced the riders to stop and saw them insulted and spat at.
Related linksCharly Wegelius: rider profile


Thank you for reading 20 articles this month* Join now for unlimited access
Enjoy your first month for just £1 / $1 / €1
*Read 5 free articles per month without a subscription
Join now for unlimited access
Try first month for just £1 / $1 / €1