Chris Froome working on new Sky contract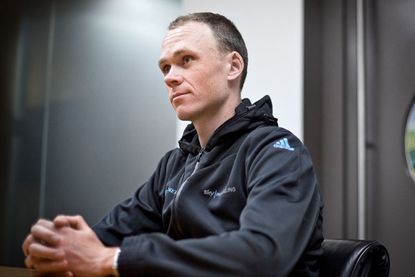 Chris Froome said that he is "busy" ahead of the Tour de France trying to lengthen his contract with Team Sky.
"I do feel at home at Team Sky," the 28-year-old told Press Association Sport.
"I feel I've worked really well with them for the past three years and I feel really fortunate to be in the position that I'm in now. I've still got another year on contract with Team Sky, but I'm busy talking with management now to look at lengthening that."
Froome extended his contract in 2011 for three years.
Last year he helped Wiggins win the Tour and is set to do the same this year himself. Wiggins original four-year contract with Sky ends this season (2013).
Tour Director Prudhomme expects Wiggins' return
Tour de France director, Christian Prudhomme expects Bradley Wiggins to be back at his race in 2014.
"I think he'll have his motivation back and be back," Prudhomme told the Associated Press.
Wiggins abandoned the Giro d'Italia with a sore knee and chest infection. Knee pains meant he could not defend his Tour de France this year.
Prudhomme added, "[Elite athletes] can fall very low but rebound very quickly."
The 2014 Tour runs on familiar roads for Wiggins, starting in Yorkshire and heading to London ahead of its French stages.
Blanco appears ready to announce new sponsor
Dutch Team Blanco appears ready to name its new sponsor, reportedly Belkin, on Monday in Hilversum. The team yesterday sent out a press release announcing "a fresh start" and a press conference with Tour de France riders and sports directors.
De Telegraaf reported at the start of this month that Belkin, an American consumer electronics manufacturer, signed a sponsorship deal for two and a half years. It would save Blanco, which was backed by Rabobank and only had money to continue through this year.
Rabobank pulled out during the Lance Armstrong scandal this winter, which linked several past riders and staff members
Cancellara wins eighth national time trial title
Swiss Fabian Cancellara (RadioShack-Leopard) won his eighth national time trial title yesterday in Satigny
"I still felt the Tour de Suisse in my legs, despite the good feelings on the bike yesterday. For me it was also a test to see where my shape is at. I'm certainly satisfied," the 32-year-old said in a press release
He rode nearly a minute, 59 seconds faster than Martin Elmiger (IAM Cycling). The title adds to his 2002, 2004, 2005, 2006, 2007, 2008 and 2012 wins.
"It never gets boring to win your National Championships. For me it's an honour to wear the jersey, so I really went for it!"
O'Grady celebrates record-equalling Tour ride
Stuart O'Grady (Orica-GreenEdge) and South Australia will celebrate a record-equalling 17th Tour de France participation on July 8, in La Baule.
With his start next weekend, the 39-year-old Aussie will match George Hincapie's record set last year.
O'Grady has won two stages in the Tour de France and spent nine days in the yellow jersey.
Read Cycling Weekly magazine on the day of release wherever you are in the world with our iPad and iPhone edition - International digital edition, UK digital edition. And if you like us, rate us!
Thank you for reading 20 articles this month* Join now for unlimited access
Enjoy your first month for just £1 / $1 / €1
*Read 5 free articles per month without a subscription
Join now for unlimited access
Try first month for just £1 / $1 / €1