Chris Opie extends UK Youth lead at Canary Wharf Tour Series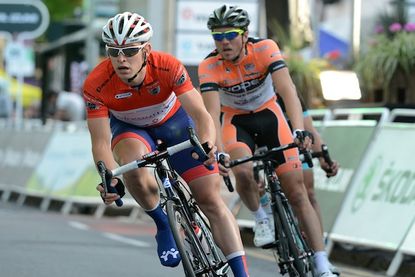 Chris Opie (UK Youth) finally took his first individual Tour Series victory in Canary Wharf on Thursday night, spearheading a dominant performance from the UK Youth team that saw them further extend their overall lead in the series.
Opie beat Ed Clancy (Rapha-Condor-JLT) and Roman Van Uden (Node4-Giordana) in the final sprint but behind him were teammates Marcin Bialoblocki (fourth) and Tobyn Horton (fifth) to help seal the team result on the night.
Closest rivals Raleigh finished a disappointing sixth on the evening to concede more points to Nigel Mansell's team with four rounds remaining.
The Tour Series next heads to Woking next Tuesday (June 11) before the culminating at the end of next week in Aylsham (June 13) and Ipswich (June 14).
Results

Pearl Izumi Tour Series 2013, Round Eight: Canary Wharf

Individual result

1. Chris Opie (UK Youth)
2. Ed Clancy (Rapha-Condor-JLT)
3. Roman Van Uden (Node4-Giordana)
4. Marcin Bialoblocki (UK Youth)
5. Tobyn Horton (UK Youth)
6. Yanto Barker (UK Youth)
7. Dan Barry (Node4-Giordana)
8. David McGowan (Metaltek-Knights of Old)
9. Jack Pullar (Madison-Genesis)
10. Tom Murray (Metaltek-Knights of Old)
Team Result

1. UK Youth
2. Node4 Giordana
3. Rapha-Condor-JLT
4. Madison-Genesis
5. Metaltek-Knights of Old
6. Raleigh
7. MG-Maxifuel
8. Hope Factory Racing
9. IG Sigma Sport
10. Spin Rotor-Primal-C-Originals
Team Standings after Round Eight

1. UK Youth 73pts
2. Raleigh 63pts
3. Madison-Genesis 61pts
4. Rapha-Condor-JLT 57pts
5. Node4-Giordana 53pts
6. Metaltek-Knights of Old 46pts
7. MG-Maxifuel 35pts
8. Hope Factory Racing 21pts
9. IG-Sigma Sport 20pts
10. Spin Rotor-Primal-C-Originals 11pts
IG Sprints winner, Round Eight Canary Wharf: Chris Opie (UK Youth)
Costa Express Fastest Lap, Canary Wharf: Chris Opie (UK Youth) in 1-13.3
IG Sprints standings, post-Round Eight

1. Tom Scully (Raleigh) 63pts
2. Kristian House (Rapha-Condor-JLT) 50pts
3. Alex Blain (Raleigh) 37pts
Related links
Pearl Izumi Tour Series 2013: Coverage Index
Thank you for reading 20 articles this month* Join now for unlimited access
Enjoy your first month for just £1 / $1 / €1
*Read 5 free articles per month without a subscription
Join now for unlimited access
Try first month for just £1 / $1 / €1