Circuit of the Fens aims for bigger event in 2014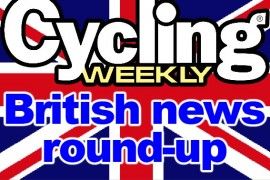 After a successful inaugural event, organisers of the Circuit of the Fens road race are optimistic of returning with a bigger and better event in 2014.
The National A race with a 2/3/4 support race took place on June 16 in Whittlesey, Cambridgeshire, this year, a week before the national
road championships. UK Youth's Marcin Bialoblocki, Niklas Gustavsson and Josh Hunt took a one-two-three.
Organiser Colin Coe told CW that although the deadline for applying for UCI ranking has passed, he was considering seeking promotion to the 2014 Premier Calendar for the event as well as inviting a number of continental teams to compete.
"The event was very well received and the teams that weren't there this year will be putting it into their diaries for next," he said. "We hope to have the same weekend as this year, so we're working with Cambridgeshire Council to make it part of their preparations for the Tour de France, which would come two weeks later."
With the race being 200km this year, the longest on the UK calendar, a possible stumbling block could come in the form of the 180km maximum distance limit for a Premier Calendar event.
"We want to preserve the distance so we need to talk to British Cycling about that," Coe added.
Laura Trott awarded honorary degree
Double Olympic gold medalist Laura Trott
was yesterday awarded an honorary degree from the University of Essex. Essex-born Trott, awarded the degree for services to cycling, was honoured alongside singer Annie Lennox.
After the ceremony, Trott tweeted: "Just call me Dr Trott #essexunigraduate."
Lottery funding for Monmouthshire cycle track
A new cycle track has been given the go ahead in Monmouthshire after £150,000 of National Lottery funding has been awarded.
The circuit at Gilwern Outdoor Education Centre, near Abergavenny, was awarded funding through the Sport Wales Calls for Action programme, which Monmouthshire County Council secured.
The looped circuit will be 1.2km and span six metres in width. As well as being an elite level facility that will be able to host national competitions, it is hoped the track will become a cycling hub for the community, open to all ages and abilities.
Ian Saunders, Monmouthshire's Head of Leisure Services said: "Our aim is to give everyone the opportunity to cycle in a safe
environment. And this is a massive leap forward in helping us achieve
that."
Learner drivers to be taught cycling road safety
RED Driving School has launched a new campaign titled 'Get Road REDdy' which aims to teach learner drivers and cyclists how to safely share the roads.
The launch follows a survey conducted by RED of over 1,000 cyclists, over half of which responded they had been involved in a road traffic collision while cycling as a result of dangerous driving.
The 'Get Road REDdy' campaign comprises a series of e-learning modules aimed at learner drivers, known as 'RED's Road Brain Trainer', and a new module called 'RED on Two Wheels' created to instruct young cyclists on safe road use.
Adventurer sets world record
A British woman has set the world distance record for travelling by a bike without a saddle after riding over 3,000 miles around Western Europe. Squash Falconer, 31, traveled 3,074 miles on an ElliptiGO, an elliptical bike described as "combining the best of running, cycling and the elliptical trainer".
Falconer's journey, which took nine and a half weeks, began at Everton football club and ended in Paris on the 6th of July. As well as setting a new world record, Falconer also raised £3,270 for breast cancer awareness charity CoppaFeel!
Driverless cars to appear on the roads
Cyclists could soon be sharing roads with driverless cars, as the Department for Transport reveals plans to test them on public roads by the end of 2013.
The plans, which come as part of a £28 billion investment in British road networks, will see UK trials progress from private land to quiet rural and suburban roads, with the vehicles driven in a semi-autonomous mode that enables passenger intervention.
The government report states that systems linking advanced intelligent cruise control, lane keep assist and advanced emergency braking technologies "allow a vehicle to travel along major roads, maintaining a safe distance from the vehicle in front at a set speed and without deviating from its lane - all without the driver's input."
Related links
Out on the street with the Space4Cycling protest
Peter Kennaugh and Ian Stannard seeking new Sky contracts
Olympic stars join Bradley Wiggins in Ride With Brad event
Beating the pros on Box Hill: Tim Stevens' challenge