Clancy wants to remind Aussie team pursuiters who's top dog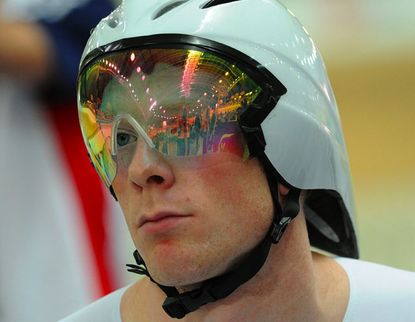 Ed Clancy wants to send the Australians a reminder that Great Britain are the team pursuit squad to beat by laying down a fast time at the Manchester World Cup next month.
Fellow Olympic champions Bradley Wiggins and Geraint Thomas are set to step back into the team for the World Cup on home soil and Clancy can't wait to see what sort of time they can do.
Clancy has been the constant in an ever-evolving team pursuit line-up and is the man who has helped hold things together between the Beijing and London Olympics.
Over the past year, the young Australian team, featuring Jack Bobridge, Michael Hepburn, Leigh Howard and Cameron Meyer, has edged ever closer. They won the Melbourne World Cup with a highly respectable 3-56 in qualifying.
But Clancy hopes the Manchester World Cup will be the perfect opportunity to remind everyone who is top dog.
"It will be good to have a real hit out, for our own confidence," he told Cycling Weekly. "If we can show we can still do a 3-54 or 3-55 off the back of a couple of months' work it will send a message. We'll try to light it up at Manchester with a fast time.
"I think the Australian improvement was inevitable. The Beijing Olympics was not their usual high standards and I always expected a comeback. What they are doing now is pretty good and they are making decent careers on the road.
"But they're not doing anything we can't do. If those boys commit to the team pursuit for 2012 I think it'll be a close race but I still think we'll have the edge.
"Having Brad and G back for Manchester is going to be fantastic. Perhaps we can get Paul Manning to come out of retirement too?
"There's a lot of competition to get into the team, with six or seven guys in the frame. As well as myself, Brad and G, there's Steven Burke, Andy Tennant, Jason Queally, Luke Rowe.
"But competition from outside is what drives you on. The team pursuit was getting to a point where it was becoming a four-kilometre team time trial. Our motto was to get up and tick the boxes. I knew I had to do a 12.7 first lap and then we knew what we had to do and we did it. But if we've got to get up there and race it, it could be really good.
"Brad's been talking about the team pursuit again. We were in Majorca and he said he was looking forward to it. The event has changed a bit with Burkey and Jason who are very quick out of the blocks but it's still an endurance event. It's all about soaking up that fast start. Brad isn't particularly quick but he's massively strong and can pull like a train in the final kilometre."
The Manchester round of the World Cup runs from February 18-20.
Related links


International track results 2010-11
Clancy takes gold in men's omnium
Ed Clancy: Rider Profile
Thank you for reading 20 articles this month* Join now for unlimited access
Enjoy your first month for just £1 / $1 / €1
*Read 5 free articles per month without a subscription
Join now for unlimited access
Try first month for just £1 / $1 / €1