Clancy wins in Colne as Rapha's crit domination show no signs of slowing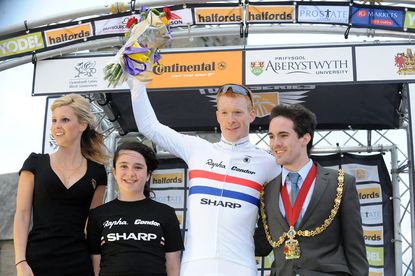 Rapha-Condor-Sharp's dominance of criteriums continued at last night's Colne GP, the fourth round of this year's Elite Circuit Series.
National Circuit Champion Ed Clancy led home a Rapha one-four, beating team-mates Dean Downing, Dean Windsor and Graham Briggs in the race for the line.
The result meant that series leader Downing and second-place overall Windsor are the only two riders who can take the series victory at the final round, the City of Preston GP on August 7.
Rapha won the Tour Series title in June after winning five of the eight races, and they have kept that winning form going into July.
Last night's impressive lock-out comes less than a week after Downing led-home a Rapha one-three in Abergavenny.
Clancy praises team-mates
As has been the case throughout the season, Rapha's strength has allowed the riders to agree on who should be the designated team-leader during a race.
Yesterday it was Clancy's turn to benefit from such a decision, and he made sure he capitalised on the hard work from his team-mates by sprinting to the victory.
"Dean (Downing) asked me with about four to gap how I was feeling," Clancy told Cycling Weekly, "and he said the team would work for me."
"Jimmy Mac (James McCallum) did a fantastic job with the lead-out, and Graham (Briggs) and Dean Windsor managed to follow me in the sprint."
Despite their record in crits this year, Clancy believes it's easy to overlook the efforts of the team despite how good the results are.
"It's easy to look at the rankings and think that it was simple, but there's a lot of hard work that goes into each race.
"Obviously we need to enjoy the victories when they happen because it's not going to be this good at every single race," he added.
Clancy wins in Aberystwyth, Tour Series 2011
No infighting
Olympic gold medalist Clancy doesn't think that the inter-team harmony will be affected by the battle for the overall victory between the two Deans.
"It's not going to come down to a Downing versus Windsor battle in Preston.
"We spoke about it before last night's race as we knew they were close, and we didn't want to lose sight of the task in hand, which is winning for the team."
Clancy continued: "Luckily we're now in a win-win position as the title will go to one of our riders."
The celebrations for the team continue tomorrow, as Graham Briggs gets married to his fiancée Sam, although the partying can't go on for too long as the team prepare for next week's National Crit Championships.
Naturally, Clancy would like to defend his title, but says keeping it within the team is the first goal.
"I'll give it a go, of course, as it would be great to be able to wear the jersey once again.
"However, I'm not going to ruin the team's chances and it will be great if one of the other guys can win it if I don't."
Related links
Tour Series 2011: Cycling Weekly's coverage index
Thank you for reading 20 articles this month* Join now for unlimited access
Enjoy your first month for just £1 / $1 / €1
*Read 5 free articles per month without a subscription
Join now for unlimited access
Try first month for just £1 / $1 / €1