How to miss the break at a sportive
Simple answer: enter a Gran Fondo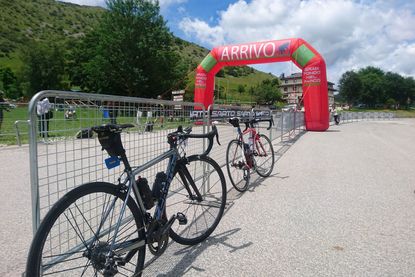 I never knew it was possible to 'miss the break' at a sportive, but 15km deep into a loop around a lake in Italy it was becoming apparent that it's entirely achievable, if that sportive is more accurately referred to as a Gran Fondo.
Cursing my prior bemusement at the stoney faced Italians 'warming up' before the start I frantically fumbled to unscrew my (over-complicated but highly recommended) Fabric multi tool ratchet set whilst 500 Italians pedalled up the road.
>>> The best international sportives to ride in 2018
The bemusement had - perhaps quite understandably - stayed with me throughout the Priest's blessing, which was followed by a rendition of Queen's 'We Will Rock You' blasted out over the peloton.
I'm not sure what's more disconcerting - 'deliver us from evil' or the clapping of hundreds of (mostly men) in Lycra out-of-tune singing: "buddy you're a young man hard man, shouting in the street gonna take on the world some day, you got blood on yo' face, you big disgrace..."
Strong as the bemusement was it had dissipated quickly as we whooshed through 'kilometre zero' of the Gran Fondo Nel Parco - the bunch quite fractured following a 7km neutral zone that include a minor mountain - behind the comms car with its flag floating in the wind and ready to drop.
The event was a a 107km (or 128km if you include the neutral zone and descent back to the town) 'race' around Lago di Barrea in Southern Italy.
>>> Cycling sportives: everything you need to know
Sponsored by Sarto bikes, an Italian brand making glamorously painted and made-to-measure custom bikes not far from Venice, it attracted about 800 riders, each fitted with transponders and hoping to be the first to the top of the 10km climb to the finish line.
Sarto was launching its new Lampo Plus aero bike, which features cable integration that looks more like the inside of a fairly complicated computer than the entry point to a gear changing system.
After a summer of UK racing I'd naively assumed I could just eschew the competitive vibe and use the first 20km or so to dial my position on my borrowed Sarto – but it soon became apparent that stopping at all was taking me dangerously close to the flashing beacons aboard the following ambulance and accompanying broom wagon.
Once adjusted (an incremental total of four times... ) I had zero chance of catching any speedy drafting trains but plenty of time to get to know the locals over the miles and mountains ahead.
I eventually found a friend in a 23-year-old university student on a brightly coloured team bike with a horrendously noisy bottom bracket.
"I crashed recently, so I'm riding as fast as I can on the hills because I've lost my confidence on the descents," she puffed as we moved from flat road and onto the next climb.
Having plummeted over the bars on the side of a mountain last summer, and spent much of the season re-learning my limits, it was a feeling I could appreciate.
>>> Best cycling holidays
Not everything in cycling is universal, though.
"I knew you weren't Italian, because you point the holes... Italians don't do that," my new friend informed me.
We pedalled on together, peering over the edge of the mountain to take in the spectacle of the lake as we climbed further away from it.
When the inevitable descent came and I rode away (you'd have done the same, right?), I was left to amuse myself, playing 'cyclist bingo' with the other participants.
Searching out the ubiquitous characters you'll find among any group of bike riders, regardless of country, is a personal favourite form of people watching.
The one who allowed shoals of his 'own kind' to speed past, yet repeatedly accelerated when a female looked in danger of edging him provided an irritation laced giggle.
On a more positive note there was the rearward facing company of the steady state climber ('Mario' - of course), and the informative soul who had actually read the manual before the event.
With 50km to go I met up with another Sarto bikes guest, who had intended to ride the 'Gourmet Tour' – a very different ride featuring 50km and a total of five feed stations loaded with a collection of local delicacies.
Unfortunately for his taste buds and fortunately for his waist line, he'd taken a wrong turn and found himself with a one-way ticket around the lake.
We exchanged notes on the ride so far over roughly cut bananas at one of the ample paper towel covered tables, powered by locals offering encouraging cries (or heckles, couldn't really tell you) from the roadside.
The first climb-laden half had rushed past at a suspiciously easy 30kph, so predictably the return journey was when the flats turned into Dutch mountains in the shape of a block headwind. But there was always a figure ahead to fixate upon if the azure beauty of the lake became tiresome.
The final 9km ascent was a war of attrition – but it only meant the 1km downwards slope to the finish line more sweet. Even as the figure in orange who I'd nonchalantly pedalled past in the closing meters of the climb drew alongside me in pursuit of the line.
This left me with a dilemma: put pressure on the pedals and admit to racing to the finish about an hour after the first man rolled over the timing chip mat, or let myself get rolled on the line.
I'm only a tiny bit ashamed to admit I did the former. Before descending back down the mountain, practising how to say "ah, sadly, I missed the break" in my best Italian.
Thank you for reading 10 articles this month* Join now for unlimited access
Enjoy your first month for just £1 / $1 / €1
*Read 5 free articles per month without a subscription
Join now for unlimited access
Try first month for just £1 / $1 / €1
Michelle Arthurs-Brennan is a traditional journalist by trade, having begun her career working for a local newspaper, where highlights included interviewing a very irate Freddie Star (and an even more irate theatre owner), as well as 'the one about the stolen chickens'.
Previous to joining the Cycling Weekly team, Michelle was Editor at Total Women's Cycling. She joined CW as an 'SEO Analyst', but couldn't keep her nose out of journalism and in the spreadsheets, eventually taking on the role of Tech Editor before her latest appointment as Digital Editor.
Michelle is a road racer who also enjoys track riding and the occasional time trial, though dabbles in off-road riding too (either on a mountain bike, or a 'gravel bike'). She is passionate about supporting grassroots women's racing and founded the women's road race team 1904rt.
Michelle is on maternity leave from July 8 2022, until April 2023.