Contador set for Vuelta as Riis looks for route back towards the top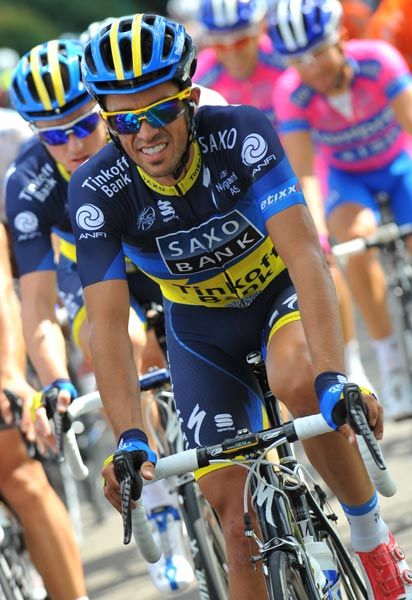 Get The Leadout Newsletter
The latest race content, interviews, features, reviews and expert buying guides, direct to your inbox!
Thank you for signing up to The Pick. You will receive a verification email shortly.
There was a problem. Please refresh the page and try again.
Alberto Contador made his return to racing after his clenbuterol doping ban at the Eneco Tour last week in preperation for the 2012 Vuelta which starts today in Pamplona.
On cobbles and Dutch clinkers that don't play to his physique or strength, Contador was impressive.
Saxo Bank Tinkoff team manager Bjarne Riis reckoned that the flat, fast Belgian-Dutch stage race was good preparation for the 2012 Vuelta.
"It was not an ideal race for him," admitted Riis, "but I wanted him to participate here because I actually think it was the perfect race for him to race before the Vuelta.
"He's been working hard, of course and he's at a good level, but after six months without racing, it wouldn't be good if your first race back was in your national Tour, with so much pressure and attention.
"There were dangers, of course, in the Eneco Tour, with the narrow roads and cobbles, but he came through it well [...] and the speed he got is something he couldn't have got at the Tour de l'Ain, which was another option for us."
Both Riis and Contador left the Eneco Tour reassured that the 29 year old Spaniard would play a leading role in the 2012 Vuelta.
Speaking to Riis, you got the very clear impression that he expects his rider to finish on the podium, even if he was unwilling to say so, wary of adding more pressure on Contador.
In any case, the Riis-Contador partnership looks like it has been strengthened following Contador's commitment to Riis' team for another three years.
Additionally, the arrival of Russian entrepreneur (with interests in everything from banking to publishing and beer brewing) Oleg Tinkoff as co-sponsor to the Danish Saxo Bank backer looks like it will propel Riis and his squad back into the big league.
We asked Riis how the deal - announced just before the Tour - came about and what implications it had for his team.
When did the first contact with Oleg Tinkoff take place?
"Actually he called me a few years ago and we met but it didn't really work out back then. Then we met just before the Tour this year and it all happened pretty fast.
"He's a real cycling enthusiast. He has aspirations for the team but he is coming back into cycling quite slowly I think when he left cycling a few years ago he was a bit disappointed but he definitely wants to work with me, so slowly he's come in.
"He's a great guy, a real character and he can be a big part of cycling. He's going to be great to work with. He's got a lot of charisma, he's larger than life but not in a fake way.
"Of course journalists like him because he's always got a quote, he's very open, he's very...expansive, but behind that he's got a lot of ideas and I'm sure his heart is in the right place with cycling."


Does it significantly change the plans you had for the team?
Yes, it definitely helps, it gives me motivation to believe that we can have the best team in the world, the strongest team in the world. Not next year, but over the coming years I think it's possible. I can't guarantee it of course, but that's my plan.


You can't hope to achieve that without a big budget these days, can you?
Yes, it's all about budget. You need to have the ability to assemble a good team of riders then you need to be able to motivate them.


Given Team Sky's success and budget, do you see that set-up as a model?
"Well you know I think I had a good model, a good idea of what a team should be like for many years now, maybe I kind of lost it for a few years.But that was down to pure budgetary matters, that's just how it is now.
"I think they [Sky] took my model to the next level which I was not able to do because you need a lot of money to do that. Now I hope I can come back with a roster of riders.
"Sky have done a great job in a very short space of time, no doubt about that. Maybe they are not so strong in the Classics but nobody really notices that because of the successes they have elsewhere. In the first place though we will strengthen the team for the Grand Tours, Alberto is the main man in the team, so of course you have to build it to help him - then we'll look to the Classics."


So, with financial backing from Tinkoff, if Contador comes back to something like his old form at the Vuelta, maybe Sky will have a rival squad in next year's Tour?
However, if Contador flops in the Vuelta, will Riis' plan fall to pieces? Thus, the focus and interest in the 2012 Vuelta isn't just about the race, but about the implications of Contador's performance on Riis' plans for the years ahead.
Thank you for reading 20 articles this month* Join now for unlimited access
Enjoy your first month for just £1 / $1 / €1
*Read 5 free articles per month without a subscription
Join now for unlimited access
Try first month for just £1 / $1 / €1
Get The Leadout Newsletter
The latest race content, interviews, features, reviews and expert buying guides, direct to your inbox!