Cuming wins final Rudy Project TT round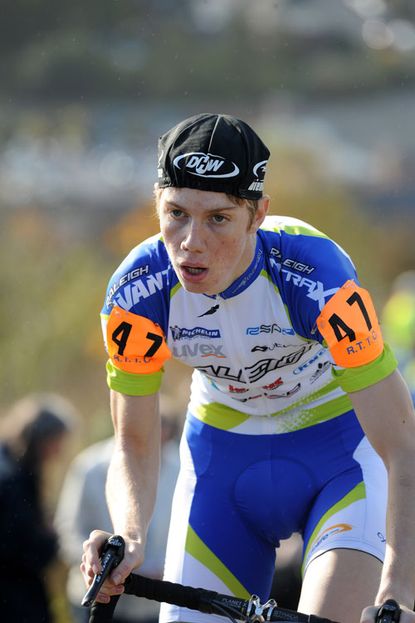 The final round of the RTTC-Rudy Project Time Trial Series was won by Team Raleigh teenager Mike Cuming, who scored a convincing victory after punctures ruled out two of the top seeds.
Stoke-based Cuming is perhaps better known lately for his hill-climbing exploits after several victories including the Wigmore CC event on Hollingbourne Hill two weeks ago, but he is an accomplished time trial rider as he proved on Saturday.
He clocked 1-04-28 to win the event by more than two minutes over a 28.7-mile course based on roads around the Rockingham Forest Wheelers' clubrooms at Middleton in Northamptonshire.
Despite the pre-event sweep presenting organisers with no reasons for concern, shortly after riders began a farmer started hedge cutting, and his labours resulted in 13 non-finishers with punctures throughout the field.
The highest-profile of these was Somerset Road Club's Dean Robson who failed even to complete the first of three laps, while former series winner Kevin Dawson (Sportscover.com) fell victim on his second lap, having completed his first circuit in 18-21, already more than a minute ahead of Cuming.
While many of the categories had already been decided prior to Saturday's final round, Ian Dalton (Cherry Valley RT) snatched the overall win on the last day in the veterans on actual time category, with previous leader Ian Cooke (Team Swift) a non-finisher.
In the women's category, series victor Michelle King (Cult Racing) ended in style with victory by 2-16 over team-mate Jane Kilmartin. And also ending the series in style was junior Jack Green (VC St Raphael) who was 2-18 quicker than team-mate Andrew Brind-Surch in second.
Third fastest of the women, 66-year-old Carole Gandy (Born to Bike) also won the veterans on target time race, closing to within three points of series winner John Woodburn on the back of her victory.
RTTC-Rudy Project Time Trial Series (Middleton, Northants).-

Seniors (28.7 miles).-

1 Mike Cuming (Team Raleigh) 1-04-28
2 Ian Taylor (Team B Global) 1-06-38
3 Daryl May (Sheffrec CC) 1-14-08
4 Jim Trevor (Hull Thursday RC) 1-15-55
5 Richard Gamble (Hinckley CRC) 1-16-03
Women (18.7 miles)-

1 Michelle King (Cult Racing) 44-48
2 Jane Kilmartin (Cult Racing) 47-04
3 Carole Gandy (Born to Bike) 48-50
Juniors (18.7 miles).-

1 Jack Green (VC St Raphael) 41-42
2 Andrew Brind-Surch (VC St Raphael) 44-00
3 Kristian Woolf (Kings Cliffe Flyers) 44-03
Veterans on actual time (18.7 miles).-

1 Ian Dalton (Cherry Valley RT) 42-49
2 Stefan Harrison (Team Echelon) 44-04
3 Nick Giles (Fibrax-Wrexham RC) 46-29
Veterans on target time (18.7 miles).-

1 Carole Gandy (Born to Bike) +12-06
2 Richard Glover (Cambridge CC) +9-25
3 Stan Maciak (Didcot Phoenix CC) +9-00
4 John Dixson (Team Endura) +8-30
Disabled.- Tim Challinor (Dave Mellor Cycles) 48-22.
Thank you for reading 20 articles this month* Join now for unlimited access
Enjoy your first month for just £1 / $1 / €1
*Read 5 free articles per month without a subscription
Join now for unlimited access
Try first month for just £1 / $1 / €1