DHL delivers next generation of sprint stars at Revolution 31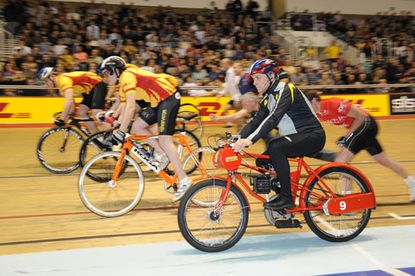 The nation's most promising track cyclists will be heading to the National Cycling Centre in Manchester this Saturday (December 11) for the DHL Sprint School's annual Race Day, where they will compete for the chance to race in front of a capacity Revolution crowd that evening.
Seventy young cyclists aged 12 to 16 will contest a series of Keirin heats throughout the day, with the six fastest male and female finishers qualifying for an evening final. Offering expert advice to the riders throughout the day will be British track hero, Craig MacLean.
The race day is the climax of the 2010 season of DHL Sprint School, a development programme offering young riders expert tuition from top British Cycling coaches and international track stars. Thanks to the ongoing support of DHL, the Sprint School scheme continues to thrive and is helping to identify the next generation of cycling talent.
"I've been closely involved with Sprint School throughout this year and have been so impressed with the commitment and enthusiasm of the riders," commented MacLean. "Their track skills have come such a long way over the season, Race Day will be a great way to put it all into practice. And riding in front of the Revolution crowd at their age will be a real test of their mettle! It should be great to watch."
For many of the riders, Saturday's event will be their first taste of how it feels to race like a professional and the competition to qualify for the final at Revolution will be fierce. No doubt there will be a few nerves amongst the finalists as they take their places behind the derny bike but they will be guaranteed a warm reception from the sell-out crowd, who might just be watching the next wave of Olympic champions.
There are still tickets available for Revolution from www.quaytickets.com or by calling 0843 208 0500.
For more information about DHL Sprint School and how to get involved, please see the website www.sprintschool.com
Related links
Ghent Six winners to feature at Revolution
Thank you for reading 20 articles this month* Join now for unlimited access
Enjoy your first month for just £1 / $1 / €1
*Read 5 free articles per month without a subscription
Join now for unlimited access
Try first month for just £1 / $1 / €1